Commissioning a painting is a wonderful opportunity for collectors to have a personalized, original piece of art in their home, office or other space. Unlike buying a pre-existing painting, a commission gives clients the ability to customize a painting to their specific requirements, including size, color and aesthetic preferences.

At Laasya Art, we frequently coordinate commissions by leading Indian artists on behalf of our clients, and we work closely with each client throughout the process from conceptualization to delivery. If you are interested in commissioning a piece by one of our artists, it is important to first understand if the process is right for you.
---
---
Is a commissioned painting right for you?
In most cases, clients have a clear vision with specific requirements for size, colors and theme when they decide to commission an original painting. Sometimes, they have fallen in love with a painting that has sold, and they would like to commission a similar image with a few adaptations. Other times, they want a completely customized painting created by a specific artist, tailored to the exact dimensions and color scheme of their space. Commissions also often involve large-scale paintings or other non-standard sizes that the artist does not typically produce.
If you decide to move forward, here is what you should gather in preparation for your custom painting:
Images and dimensions of the wall where the painting will hang

Images that convey a 360 view of the room, to give the gallery and artist a sense of the lighting conditions, decor and colors.

Preferred dimensions of the commissioned painting itself
---
This client approached us to commission a painting for their study, where they frequently hold work meetings. Their brief was twofold: first, they wanted a painting with a "global feel" that did not represent a particular country, culture or religion. Second, they wanted the painting to have a soft vibe, to complement the existing color palette of the room.

The client was drawn to artist Basuki Das Gupta's style, so we developed a few themes and finally honed in on one of his existing floral panels. We then fine tuned the colors to sync with the sofa, table and wall color of the study. At the client's request, Basuki also incorporated the names of their children in the painting in a discrete way.

---
---
How the commissioning art process works
Here are the basic steps of conceptualizing and coordinating a custom painting by a contemporary Indian artist.
Ideation


The client outlines their general concept and preferences with the gallerist. In person or over video chat, the gallerist will also visit the client's space to see and measure where the painting will hang.

Customization


The client, gallerist, artist and designer work together as a team to determine the subject, colors, measurements, textures and any other variables that are important to consider while developing a custom work.

Finalization


The client and gallerist finalize the brief for the artist and nail down all specifics.

Preparation


Based on the client's brief, the artist prepares an intermediate sketch of the painting and shares this with the client and gallerist for approval.

Production


Once the intermediate sketch is approved, the artist can begin the final painting. Commissioned paintings typically take about two to three months to complete, depending on the artist's schedule and prior commitments.

Delivery


The gallery regularly communicates with both client and artist until the painting is ready for delivery.
---
The clients had a very minimalistic home and were drawn to a similarly sophisticated painting by artist Bharti Prajapati that was rooted in India, yet contemporary in its treatment. However, they required a larger size canvas in order to make an impact on the double height walls of their entryway and stairwell.

---
After admiring artist Ramesh Gorjala's work for a long time, this client decided to commission a painting of Hanuman, inspired by her family's tradition of chanting Hanuman Chalisa every night. The artist was given very specific measurements to follow, since the painting would ultimately hang in a narrow wooden panel above the fireplace.

Ramesh Gorjala designed a composition that would best fit the vertical canvas. He then used color sparingly, to keep the visual focus on the figure of Hanuman. Upon seeing the finished painting for the first time, the client was overcome with emotion, and this commission will certainly be a cherished reminder of family memories for many years to come.

---
Tips for Commissioning Artwork

From the gallery's perspective, here are our best tips on how to commission artwork smoothly and successfully.
Always work with an experienced gallerist who will be able understand your vision and communicate to the artist, as well as know the artist's style, strengths and limitations.

Understand your likes as well as your dislikes regarding color, theme and other details. An artwork is a long-term investment and the painting will likely be on display in your home for many years — know your preferences so you can confidently make aesthetic decisions.

Learn about the artist that you will be commissioning and review their portfolio thoroughly, in order to understand what you love most about their work and what you would like to include in your own custom painting.

Invest time upfront to customize your commission painting. Be careful not to rush this part!

Trust the artist. Once you have agreed on the brief and intermediate sketch, give the artist space to get into their creative flow and deliver a phenomenal painting.
---
Inspired by another painting of Jagannath's which incorporated words from a love poem by Rabindranath Tagore, the client requested to similarly use Tagore's famous poem "Where the mind is without fear." Once hung, the overall effect was stunning and brought a brighter, cheerful vibe to the previously dim space.

RECENT COMMISSIONED ARTWORKS: CASE STUDIES
---
To learn more about the commissioning process, read our recent blog posts above, or browse recent testimonials below. To schedule a consultation, please reach out to us at info@laasyaart.com.
---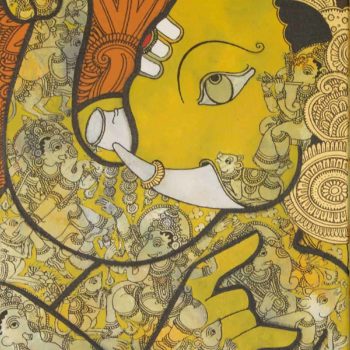 We wanted to create a painting with a unique aesthetic that was a reflective of who we were and that matched the upholstery and carpet in that room.
We always liked Ramesh Gorjala's work and the usual sizes he created did not work for the space we had in mind. We knew we would need to do a custom work. We liked the Ganesh motif and wanted to go with that.
Sonia and I looked went over his recent works to identify what we liked. Sonia was open and ready to experiment. It was a collaborative and pleasurable experience overall and as a team, we worked towards matching the vision we had for this painting in terms of look, colors and size.
Sonia spoke to the artist and once we commissioned the painting, she kept us in the loop on the work in progress including showing us an image of the painting as it unfolded. That was helpful in removing the nervousness and uncertainty we felt about the process initially.
The process was pretty quick and once we saw the final painting, it felt well worth it!
Sri Ramakrishnan
California, USA

---
I fell in love with Anuradha Thakur's paintings when I saw them at Sonia's gallery but was looking for a particular size to fit above my mantel, which was not available at the time. Imagine my surprise and pleasure when I found that the artist was open to commissioned paintings! My husband and I suggested one style that we liked and the size and left it to the artist to paint her magic.
Within a few days we had received a sketch from the artist. We suggested a small change which the artist incorporated readily and in a few weeks we had the beautiful painting shipped from India and hanging above our mantel. We couldn't be happier with our experience. The painting has received raves from our friends who love the burst of color and intricate detailing that are the hallmark of Thakur's work.
V.P
California, USA

---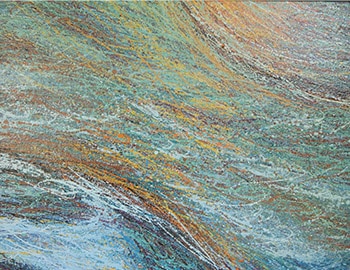 Sonia Patwardhan of Laasya Arts is what I was looking for in an art professional. She is very knowledgeable, willing to spend a lot of time and helpful in educating someone with limited knowledge of fine art. Sonia is also well-connected with art circles in India and has the ability to find appealing art styles from a wide variety of artists. Her pricing is also very reasonable compared to more established art galleries, and she can find art that is comparable or similar to other sources. I have personally bought art from her and would highly recommend her to anyone looking for fine art and wanting to get educated about it.
Rajiv P.
California, USA