Clients who are passionate about collecting Indian art may consider taking the next step to commission an original painting by a leading Indian artist to suit their specific requirements, such as size, color and aesthetic preferences. We are well-connected with the artist community in India, and our years of experience will help make your commission go smoothly.

We will work closely with you throughout the commission process. This generally includes visiting your space to see and measure where the painting will hang, showing you an intermediate 'work in progress' sketch of the painting, and regularly communicating with you and the artist until the painting is ready for delivery. This is a wonderful opportunity for clients to have a personalized original piece of art by a prominent Indian artist in their home, office or other space.
Commissioned paintings typically take about two to three months to complete once the concept and size are finalized, depending on the artist's schedule and prior commitments.
Sujata Achrekar's custom portrait of two 'Brahmin Brahmacharis' brightens this client's living room with a vivid blue and red color palette.
Anuradha Thakur's commissioned large-scale painting brings her signature scenes of tribal Indian life to this client's dining room, custom-made to the dimensions of the wall. This is a triptych painting consisting of three panels, each installed about one inch apart. The center painting depicts a wedding ceremony, while the side panels depict the by-standers.
RECENT COMMISSIONS: BEFORE & AFTER
This client approached us to commission a painting for their study, where they frequently hold work meetings. Their brief was twofold: first, they wanted a painting with a "global feel" that did not represent a particular country, culture or religion. Second, they wanted the painting to have a soft vibe, to complement the existing color palette of the room.

The client was drawn to artist Basuki Das Gupta's style, so we developed a few themes and finally honed in on one of his existing floral panels. We then fine tuned the colors to sync with the sofa, table and wall color of the study. At the client's request, Basuki also incorporated the names of their children in the painting in a discrete way.

The client loved artist Anuradha Thakur's vibrant paintings and wanted to commission a high impact piece for a prominent wall in their home. The painting would be visible from the entrance of the home. They described their ideal scene as featuring women dancing in union, exuding pure joy "like when a peacock dances in the first rain."
Artist Anuradha was very excited by the client's brief and created an initial sketch which they loved. Since the room had very little natural light, we went with a lighter color palette overall. After the final 4.5 x 10 foot canvas was installed in the dining room, the client responded, "The whole painting energizes the room. Now the wall has the right balance of colors, emitting joy and happiness."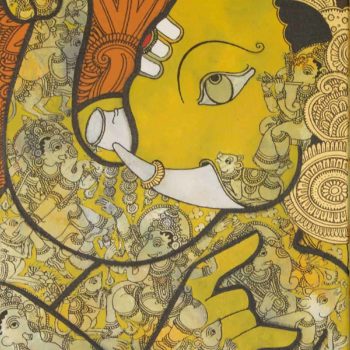 We wanted to create a painting with a unique aesthetic that was a reflective of who we were and that matched the upholstery and carpet in that room.
We always liked Ramesh Gorjala's work and the usual sizes he created did not work for the space we had in mind. We knew we would need to do a custom work. We liked the Ganesh motif and wanted to go with that.
Sonia and I looked went over his recent works to identify what we liked. Sonia was open and ready to experiment. It was a collaborative and pleasurable experience overall and as a team, we worked towards matching the vision we had for this painting in terms of look, colors and size.
Sonia spoke to the artist and once we commissioned the painting, she kept us in the loop on the work in progress including showing us an image of the painting as it unfolded. That was helpful in removing the nervousness and uncertainty we felt about the process initially.
The process was pretty quick and once we saw the final painting, it felt well worth it!
Sri Ramakrishnan
Palo Alto

I fell in love with Anuradha Thakur's paintings when I saw them at Sonia's gallery but was looking for a particular size to fit above my mantel, which was not available at the time. Imagine my surprise and pleasure when I found that the artist was open to commissioned paintings! My husband and I suggested one style that we liked and the size and left it to the artist to paint her magic.
Within a few days we had received a sketch from the artist. We suggested a small change which the artist incorporated readily and in a few weeks we had the beautiful painting shipped from India and hanging above our mantel. We couldn't be happier with our experience. The painting has received raves from our friends who love the burst of color and intricate detailing that are the hallmark of Thakur's work.
V.P
San Francisco Bay Area

Sonia Patwardhan of Laasya Arts is what I was looking for in an art professional. She is very knowledgeable, willing to spend a lot of time and helpful in educating someone with limited knowledge of fine art. Sonia is also well-connected with art circles in India and has the ability to find appealing art styles from a wide variety of artists. Her pricing is also very reasonable compared to more established art galleries, and she can find art that is comparable or similar to other sources. I have personally bought art from her and would highly recommend her to anyone looking for fine art and wanting to get educated about it.
Rajiv P.
Los Altos, San Francisco Bay Area