ORIGINAL ART BY SUJATA ACHREKAR: PAINTINGS FOR SALE
---
Please hover or click on images to view artwork details.
ORIGINAL ART BY SUJATA ACHREKAR: PAINTINGS SOLD
---
Please hover or click on images to view artwork details.
ART INSTALLATIONS AT CLIENTS' HOMES
---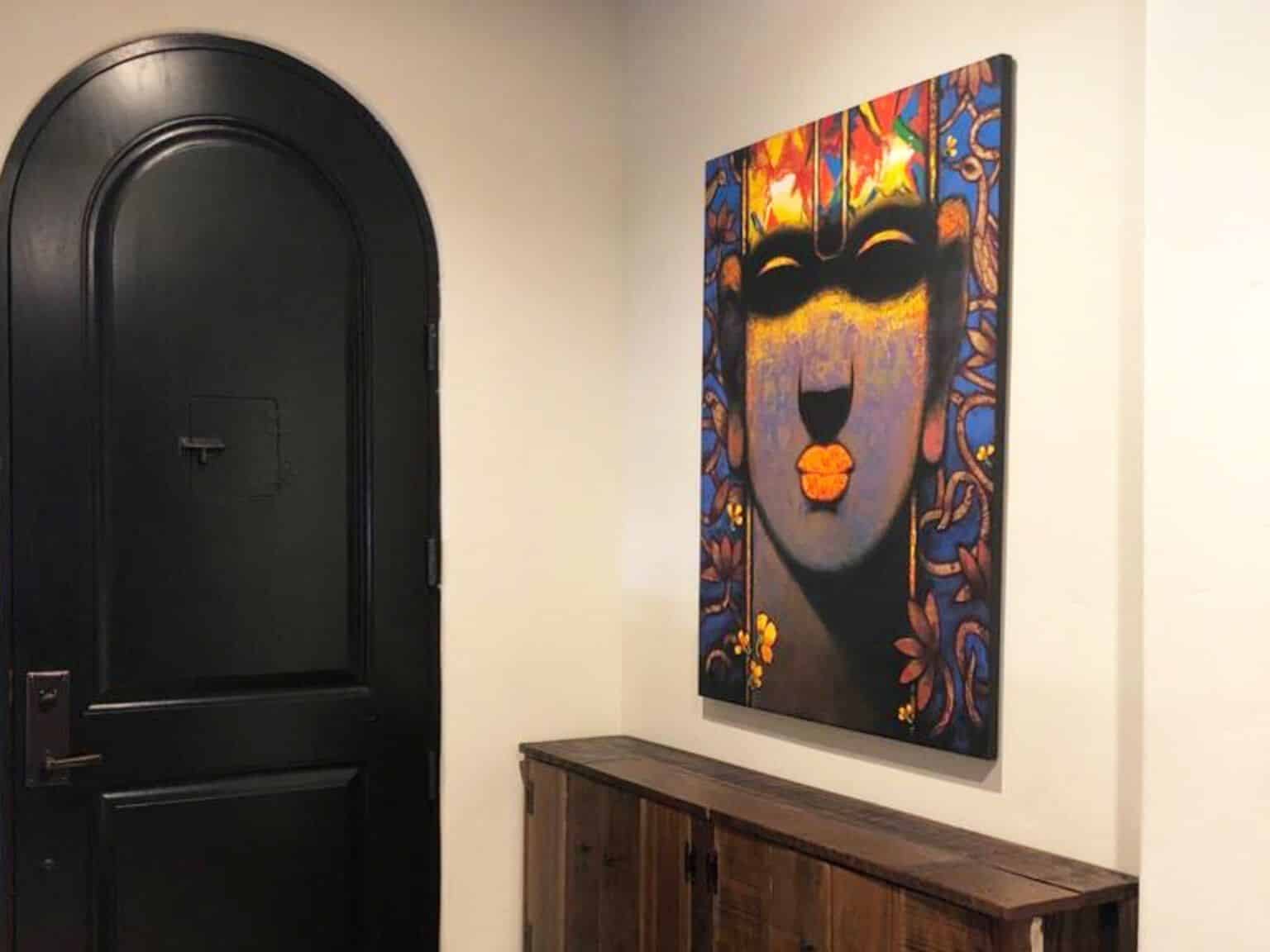 ---
Contemporary Indian artist Sujata Achrekar is well-known for her original paintings of faces—particularly the faces of 'Brahmin Brahmacharis,' or young men dedicated to the pursuit of freedom from reincarnation. She defines 'Brahmin' as "he who knows himself" and usually depicts him as a serene and stoic figure with hooded eyes. In her striking style, she boldly renders these faces in vibrant colors and carefully incorporates Sanskrit verses in 'Devnagri' letters.
Hindu philosophy and mythology are the prominent themes in art by Sujata Achrekar, particularly portraits of religious figures. Through these portraits, she aims to tell the story of the human condition. She mainly uses acrylic paint but relies on many innovative techniques—scratching, overlapping, scrubbing, rolling and writing—that result in the intensely textured surface of her canvases.

Artist Sujata Achrekar studied at the L.S. Raheja School of Art, Mumbai and later taught at the Sir J.J. School of Art, Mumbai for 12 years. She has shown her work in India and internationally, and she has received several awards including the Maharashtra Government State Award for Portraiture in 1990 and 1992. Her husband, Vijay Achrekar, is also a well-known artist.
Sujata Achrekar welcomes requests for commissioned paintings. If you like a painting that has sold, or if you have a particular space in mind, a custom painting can be made to your taste and specifications regarding size, color palette and other details. You are welcome to buy her paintings online or view them at our gallery in Palo Alto (San Francisco Bay Area). All artworks are hand signed by the artist and include a certificate of authenticity.
---
---
Sujata painting in her art studio.
FREQUENTLY ASKED QUESTIONS
---
Are the paintings signed?
Yes, all paintings are signed by the artist and come with a certificate of authenticity.
Is shipping available worldwide?
Yes, we offer both domestic and international shipping, and all fees are on actuals. We frequently ship throughout the US as well as to Europe, Africa and Asia.
How are the artworks shipped?
All works including paintings, prints and sculptures are professionally packed. Smaller paintings can be shipped flat, and larger paintings can be unstretched and rolled in a tube. Each shipment is covered by transit insurance.
Are exchanges accepted?
Yes, we do offer exchanges for remote clients who are based in the United States. Paintings must be returned in the same perfect condition in order to be eligible for exchange. Please refer to our FAQ page for more details on our exchange policy.
Are the paintings framed?
No, the paintings are not sold framed. While it is not necessary to frame a canvas, it can be a stylistic choice and help integrate the painting with the existing decor. You can read more advice about framing on our blog.
How should the artwork be taken care of?
As a resource for clients, we have written a guide on the best art care tips for canvases and works on paper.