ORIGINAL ART BY THOTA VAIKUNTAM: PAINTINGS AVAILABLE
---
ART BY THOTA VAIKUNTAM: SERIGRAPHS (PRINTS) AVAILABLE
---
Serigraphs are a type of high quality, limited edition screen print made on high quality paper in collaboration with the artist. A different 'screen' or stencil is created for each color, and then ink is pushed through the corresponding stencil onto the paper. This printing process is repeated multiple times, using a separate stencil for each color. A single serigraphic print can have as many as 25 colors or more. Each print is then numbered and signed by the artist. Usually, prints of fewer editions are higher in value.
ORIGINAL ART BY THOTA VAIKUNTAM: PAINTING SOLD
---
---
---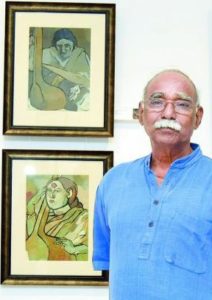 Thota Vaikuntam is a legendary contemporary Indian artist from Telangana, which has served as a perpetual source of inspiration for his art. His longstanding muses are the sensuous and voluptuous women of his hometown, with their omnipresent red bindis and colorful saris that highlight their dusky skin.
In order to best capture the simple lifestyle of the villagers from Telangana, art by Thota Vaikuntam uses similarly simple colors in his original paintings and fine art prints. He explains, "I like using rich, primary colors in my paintings, which give them a sense of character and depth. Red, saffron and even orange are essentially Indian colors, and I use them extensively. However, colors that are a mix of two are not natural since they don't exist in surroundings around us, in our everyday life."
Thota Vaikuntam completed his Bachelor's degree in Art at the College of Fine Arts and Architecture, Hyderabad and his Master's from M.S. University, Baroda. He has received multiple awards, including the Bharat Bhavan Biennale Award.
You are welcome to buy artist Thota Vaikuntam's original paintings and prints online or view them at our gallery in Palo Alto (San Francisco Bay Area). All artworks, including serigraphs, are hand signed by the artist.
---
---

A step-by-step demonstration of the serigraphic printing process.