ART BY THOTA VAIKUNTAM: SERIGRAPHS (PRINTS) AVAILABLE
---
Please hover or click on images to view artwork details.
ORIGINAL ART BY THOTA VAIKUNTAM: PAINTING SOLD
---
Please hover or click on images to view artwork details.
---
---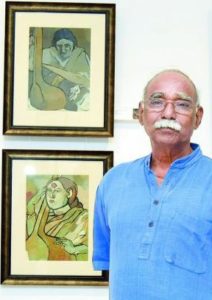 Thota Vaikuntam is a legendary contemporary Indian artist from Telangana, which has served as a perpetual source of inspiration for his art. His longstanding muses are the sensuous and voluptuous women of his hometown, with their omnipresent red bindis and colorful saris that highlight their dusky skin.
In order to best capture the simple lifestyle of the villagers from Telangana, art by Thota Vaikuntam uses similarly simple colors in his original paintings and fine art prints. He explains, "I like using rich, primary colors in my paintings, which give them a sense of character and depth. Red, saffron and even orange are essentially Indian colors, and I use them extensively. However, colors that are a mix of two are not natural since they don't exist in surroundings around us, in our everyday life."
Thota Vaikuntam completed his Bachelor's degree in Art at the College of Fine Arts and Architecture, Hyderabad and his Master's from M.S. University, Baroda. He has received multiple awards, including the Bharat Bhavan Biennale Award.
You are welcome to buy artist Thota Vaikuntam's original paintings and prints online or view them at our gallery in Palo Alto (San Francisco Bay Area). All artworks, including serigraphs, are hand signed by the artist.
---
---
A step-by-step demonstration of the serigraphic printing process.

FREQUENTLY ASKED QUESTIONS
---
What is a serigraph?
Serigraphs are a type of high quality, limited edition screen print made on high quality paper in collaboration with the artist. A different 'screen' or stencil is created for each color, and then ink is pushed through the corresponding stencil onto the paper. This printing process is repeated multiple times, using a separate stencil for each color. A single serigraphic print can have as many as 25 colors or more. Each print is then numbered and signed by the artist.
Are the artworks signed?
Yes, all paintings and prints are hand signed by the artist and come with a certificate of authenticity.
Is shipping available worldwide?
Yes, we offer both domestic and international shipping, and all fees are on actuals. We frequently ship throughout the US as well as to Europe, Africa and Asia.
How are the artworks shipped?
All works including paintings, prints and sculptures are professionally packed. Smaller paintings can be shipped flat, and larger paintings can be unstretched and rolled in a tube. Prints are shipped rolled in a tube. Each shipment is covered by transit insurance.
Are exchanges accepted?
Yes, we do offer exchanges for paintings purchased by remote clients who are based in the United States. Paintings must be returned in the same perfect condition in order to be eligible for exchange. Please refer to our FAQ page for more details on our exchange policy.
Are the artworks framed?
No, neither the paintings nor serigraphs are sold framed. While it is not necessary to frame a canvas, it can be a stylistic choice and help integrate the painting with the existing decor. Meanwhile, works on paper must always be framed to properly protect them from warping and discoloration. You can read more advice about framing on our blog.
How should the artwork be taken care of?
As a resource for clients, we have written a guide on the best art care tips for canvases and works on paper.