ORIGINAL ART BY BASUKI DAS GUPTA: PAINTINGS AVAILABLE
---
Please hover or click on images to view artwork details.
ORIGINAL ART BY BASUKI DAS GUPTA: PAINTINGS SOLD
---
Please hover or click on images to view artwork details.
---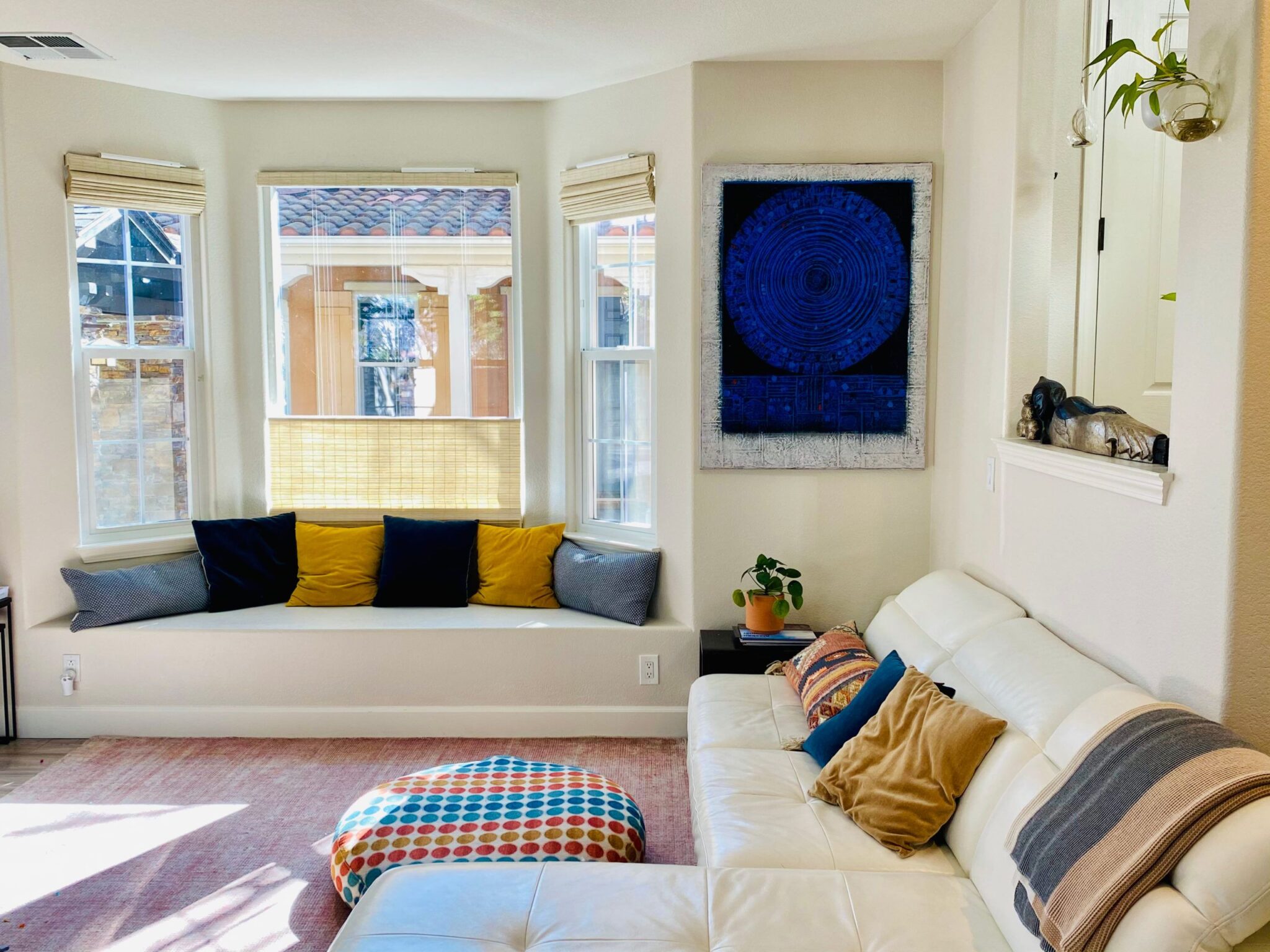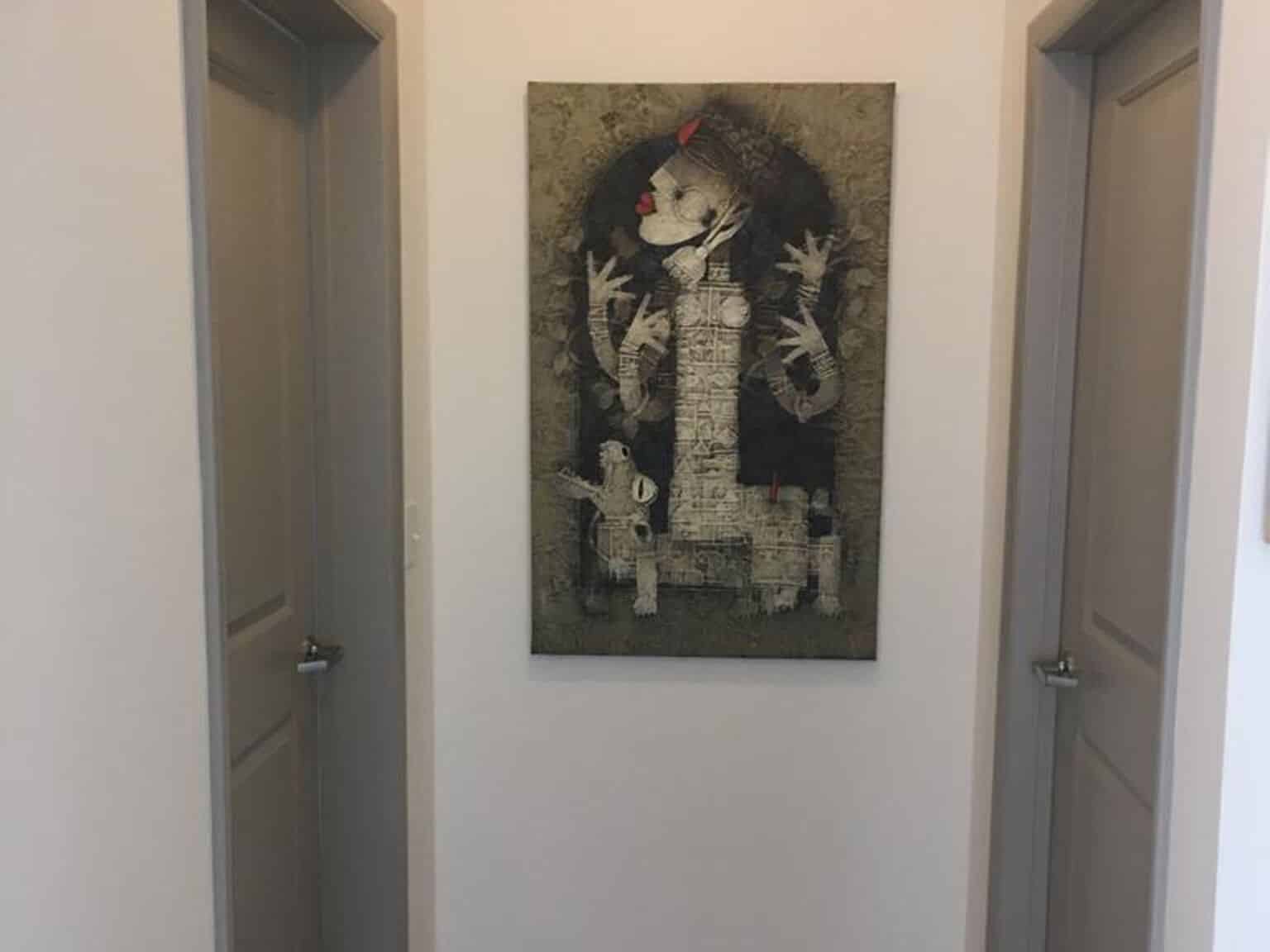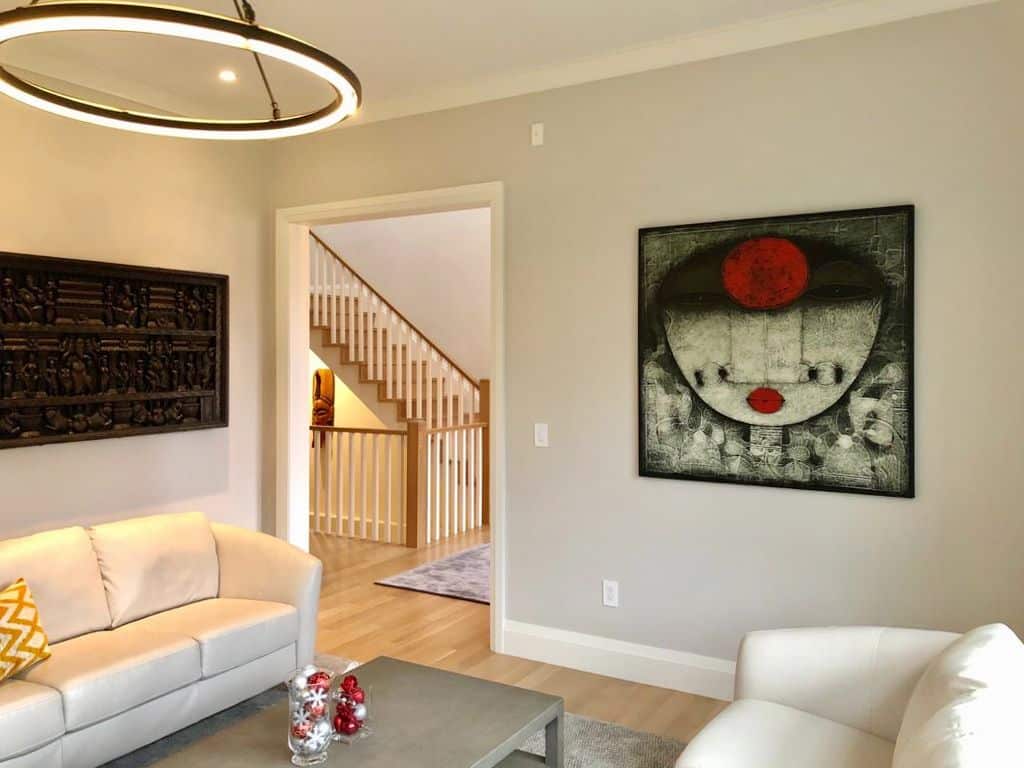 ---
When you see art by Basuki Das Gupta, a contemporary Indian artist who lives life on his own terms—it is instantly apparent that art is his purpose, his oxygen, his therapy and his meditation. Raised in Bishnupur, West Bengal, a town famous for its terracotta temples, he has always been drawn to texture. His paintings mix together hardboard, paper pulp and thick acrylic paint on canvas to create a remarkable surface that is far from flat. As he explains, "In the corridors of those temples, I was always touching the paintings and murals on the walls, when I was crying or happy… so whenever I touch my own paintings now, all my childhood emotion comes back. When I am painting, texture is my first priority. It's a very physical experience."
Another childhood influence is artist Basuki Das Gupta's awe for the women of his family, who lived and thrived on the economic margins of society. His portraits and scenes of women reveal their quiet, indomitable strength and their powerful relationships with each other. These women are traditional, sometimes wearing bindi and jhumkas earrings, yet boldly contemporary. In one series, his reverence for women takes the form of Goddess Durga, a popular Hindu warrior goddess whose mythology centers on combating evil forces that threaten peace, prosperity and dharma of the good.
Original abstract art paintings by Basuki Das Gupta take their inspiration from nature, including ocean waves, the sun and the harsh landscape of West Bengal. In other abstract works, he references the circular shape of the 'wheel' at the famous Sun Temple in Konark.
Basuki Das Gupta received a BFA in Painting and an MFA in Mural Painting from the prestigious Santiniketan-Visva Bharati, a leading art school founded by Rabindranath Tagore. He is a visiting faculty member at the National Institute of Design, Gandhinagar.

Basuki Das Gupta welcomes requests for commissioned paintings. If you like a painting that has sold, or if you have a particular space in mind, a custom painting can be made to your taste and specifications regarding size, color palette and other details. You are welcome to buy his paintings online or view them at our gallery in Palo Alto (San Francisco Bay Area). All artworks are hand signed by the artist and include a certificate of authenticity.
Learn more about Basuki's creative expression in his recent post on our blog, and read his interview about his artistic journey. Read more about the process behind his four-panel commissioned painting here.
---
---
Basuki's unique texture-building technique in action.
FREQUENTLY ASKED QUESTIONS
---
Are the paintings signed?
Yes, all paintings are signed by the artist and come with a certificate of authenticity.
Is shipping available worldwide?
Yes, we offer both domestic and international shipping, and all fees are on actuals. We frequently ship throughout the US as well as to Europe, Africa and Asia.
How are the artworks shipped?
All works including paintings, prints and sculptures are professionally packed. Smaller paintings can be shipped flat, and larger paintings can be unstretched and rolled in a tube. Each shipment is covered by transit insurance.
Are exchanges accepted?
Yes, we do offer exchanges for remote clients who are based in the United States. Paintings must be returned in the same perfect condition in order to be eligible for exchange. Please refer to our FAQ page for more details on our exchange policy.
Are the paintings framed?
No, the paintings are not sold framed. While it is not necessary to frame a canvas, it can be a stylistic choice and help integrate the painting with the existing decor. You can read more advice about framing on our blog.
How should the artwork be taken care of?
As a resource for clients, we have written a guide on the best art care tips for canvases and works on paper.