ORIGINAL ART BY SENAKA SENANAYAKE: PAINTINGS AVAILABLE
---
Please hover or click on images to view artwork details.
ART BY SENAKA SENANAYAKE: SERIGRAPHS (PRINTS) AVAILABLE
---
Please hover or click on images to view artwork details.
ORIGINAL ART BY SENAKA SENANAYAKE: PAINTINGS SOLD
---
Please hover or click on images to view artwork details.
---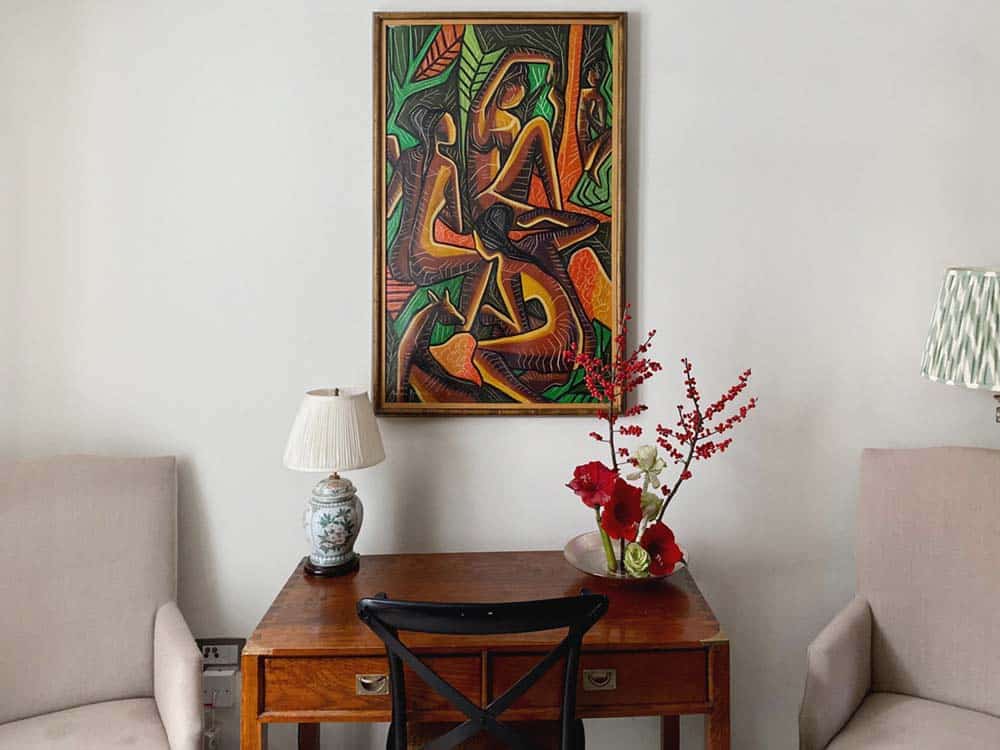 ---
Senaka Senanayake is one of the most sought-after contemporary artists from Asia. Born in Sri Lanka, his extraordinary artistic ability was evident even as a young child, and he held his first international exhibition in San Diego at the age of 10. He later enhanced his education in art and architecture at Yale University in Connecticut and, more recently, he has become particularly known for his lively scenes of rainforests that instill a sense of wonderment and awe. In a saturated color palette and in his signature flat, delineated style, Senaka's paintings echo the "spectacular and irreplaceable" beauty of the natural world.
"My focus is on the endangered flora and fauna in our rainforests," he explains his passion for landscapes. "In 2005, I visited a rainforest in Sri Lanka, which has become my muse." Since that fateful excursion, in response to the urgent need for environmental conservation around the globe, art by Senaka Senanayake has sought to capture the splendor of tropical jungles across Asia, Africa and South America. By spotlighting their unique inhabitants, from parrots and toucans to elephants and water buffalo, the artist encourages his viewers to protect wildlife and preserve these vital ecosystems. He has noted, "I could have shown the negative aspects of destruction, such as people and animals dying, but I try to do happy, positive paintings."
Senaka has been the subject of more than 150 solo exhibitions in over 18 countries including the United Kingdom, China, Australia, Japan, Singapore, Czechoslovakia, Korea and Egypt to name a few. He has also been commissioned by the White House in Washington, DC and the United Nations Headquarters in New York. Numerous acclaimed magazines and journals have reviewed his exhibitions and profiled his career, including The New York Sunday Times, Washington Post and National Geographic Magazine.
You are welcome to buy artist Senaka Senanayake's paintings online or view them at our gallery in Palo Alto (San Francisco Bay Area). All artworks are hand signed by the artist and include a certificate of authenticity.
---
---
Interview with Senaka on his various themes.
FREQUENTLY ASKED QUESTIONS
---
Are the artworks signed?
Yes, all paintings and prints are hand signed by the artist and come with a certificate of authenticity.
What is a serigraph?
Serigraphs are a type of high quality, limited edition screen print made on high quality paper in collaboration with the artist. Each print is numbered and signed by the artist.

What is the serigraphic printing process?
Producing serigraphs is a meticulous, completely manual process. Using the original artwork as the master guide, a different stencil is created for each color that will compose the image. Then, the ink is pushed through the corresponding stencil onto the paper and then laid flat on a drying rack. This step is repeated multiple times, using a separate stencil for each color. A single serigraphic print can have as many as 25 colors or more.
What makes a print more valuable?
The value of a serigraph is determined by the artist's notability, the edition size and the presence of a signature. A serigraph's most important feature is the artist's signature, which confirms its authenticity as a genuine artwork.
Are fine art prints a good investment?
Yes, the value of a serigraph can keep increasing with time, depending on the artist's historical importance and the specific serigraph.
Is shipping available worldwide?
Yes, we offer both domestic and international shipping, and all fees are on actuals. We frequently ship throughout the US as well as to Europe, Africa and Asia.
How are the artworks shipped?
All works including paintings, prints and sculptures are professionally packed. Smaller paintings can be shipped flat, and larger paintings can be unstretched and rolled in a tube. Prints are shipped rolled in a tube. Each shipment is covered by transit insurance.
Are exchanges accepted?
Yes, we do offer exchanges for paintings purchased by remote clients who are based in the United States. Paintings must be returned in the same perfect condition in order to be eligible for exchange. Please refer to our FAQ page for more details on our exchange policy.
Are the artworks framed?
No, neither the paintings nor serigraphs are sold framed. While it is not necessary to frame a canvas, it can be a stylistic choice and help integrate the painting with the existing decor. Meanwhile, works on paper must always be framed to properly protect them from warping and discoloration. You can read more advice about framing on our blog.
How should the artwork be taken care of?
As a resource for clients, we have written a guide on the best art care tips for canvases and works on paper.