BUY INDIAN ART ONLINE OR OFFLINE
---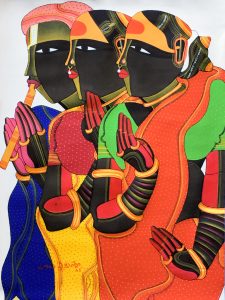 We are fortunate to live in a 'renaissance' period for contemporary Indian art, with new artistic movements blossoming across the country as well as sustained support from Indian art collectors. Legendary Indian artists such as Thota Vaikuntam and A. Ramachandran are still living and working today, while new artists are emerging such as Nishant Dange and Swati Pasari. Many artists also maintain more traditional Indian painting practices, such as Kalamkari and Madhubani (Mithila) art. Seasoned collectors and first-time buyers alike can browse Indian art online, visit local Indian art galleries and even travel to Indian art fairs around the world. There is a wealth of opportunities to collect Indian art at a range of price points and in a variety of mediums.

So while buying Indian art has never been easier, it has also never been more confusing. One option, of course, is to buy Indian art online. There are thousands of Indian paintings for sale online, including many options on our own Laasya Art website, which means you are almost guaranteed to find a painting that suits your aesthetic taste, sizing requirements and price range. Browsing and buying Indian art online also means that you are not limited to what is available nearby—you can ship paintings from India, the United States or any other location.
However, there are some disadvantages to buying original Indian art online. Without seeing the work in person, the painting may not turn out according to your expectations—it could be a different color than as shown in the photos, or it may not fit well in your home after all. You will also need to deal with transporting the painting, from arranging couriers and paying for insurance to clearing customs and stretching the canvas once it arrives. For an inexperienced buyer, this can cause all sorts of logistical snafus. 
This leads us to buying original Indian art 'offline,' or buying Indian art from a reputable Indian art gallery whether here in the San Francisco Bay Area or elsewhere in the United States from New York or Los Angeles to Seattle, or Dallas. Many of American cities have vibrant Indian communities and therefore thriving Indian art scenes. While your options for buying original Indian art in person may be more limited than the vast possibilities online, the main advantages of buying an original Indian painting from an art gallery are knowledge and confidence. Not only can you see the painting's color, texture and size in person, but a reputable art gallerist can explain the artist's credentials, inspiration and techniques. Experiencing the artwork firsthand is important, and education on the artist and the painting will enhance your lifelong appreciation of your collection.
Here at Laasya Art gallery, we try to blend the best of both worlds: most of our original paintings for sale are physically located in our Palo Alto (San Francisco Bay Area) space, but we can also help you to source a painting from India and navigate the transportation process. Additionally, we offer art advisory services, providing you with access to an expert in Indian art. Our resident Indian art advisor can recommend original paintings that would complement your home or help you to commission a work of art from a recognized Indian artist. One of Laasya Art's missions is to make Indian art more widely accessible, so we provide expert guidance to all collectors throughout the buying process and offer paintings at multiple price points. We are completely committed to providing all clients with an informative, low-pressure and enjoyable experience.

It's an exciting time for anyone passionate about the art of India, whether traditional or folk, contemporary or modern. If you feel ready to make the leap and begin your Indian art collection, we invite you to book a visit to Laasya Art gallery (by appointment only) and take a tour of curated Indian art collection here in Palo Alto.