ORIGINAL ART BY BHARTI PRAJAPATI: PAINTINGS FOR SALE
---
Please hover or click on images to view artwork details.
ORIGINAL ART BY BHARTI PRAJAPATI: PAINTINGS SOLD
---
Please hover or click on images to view artwork details.
ART INSTALLATIONS AT CLIENTS' HOMES
---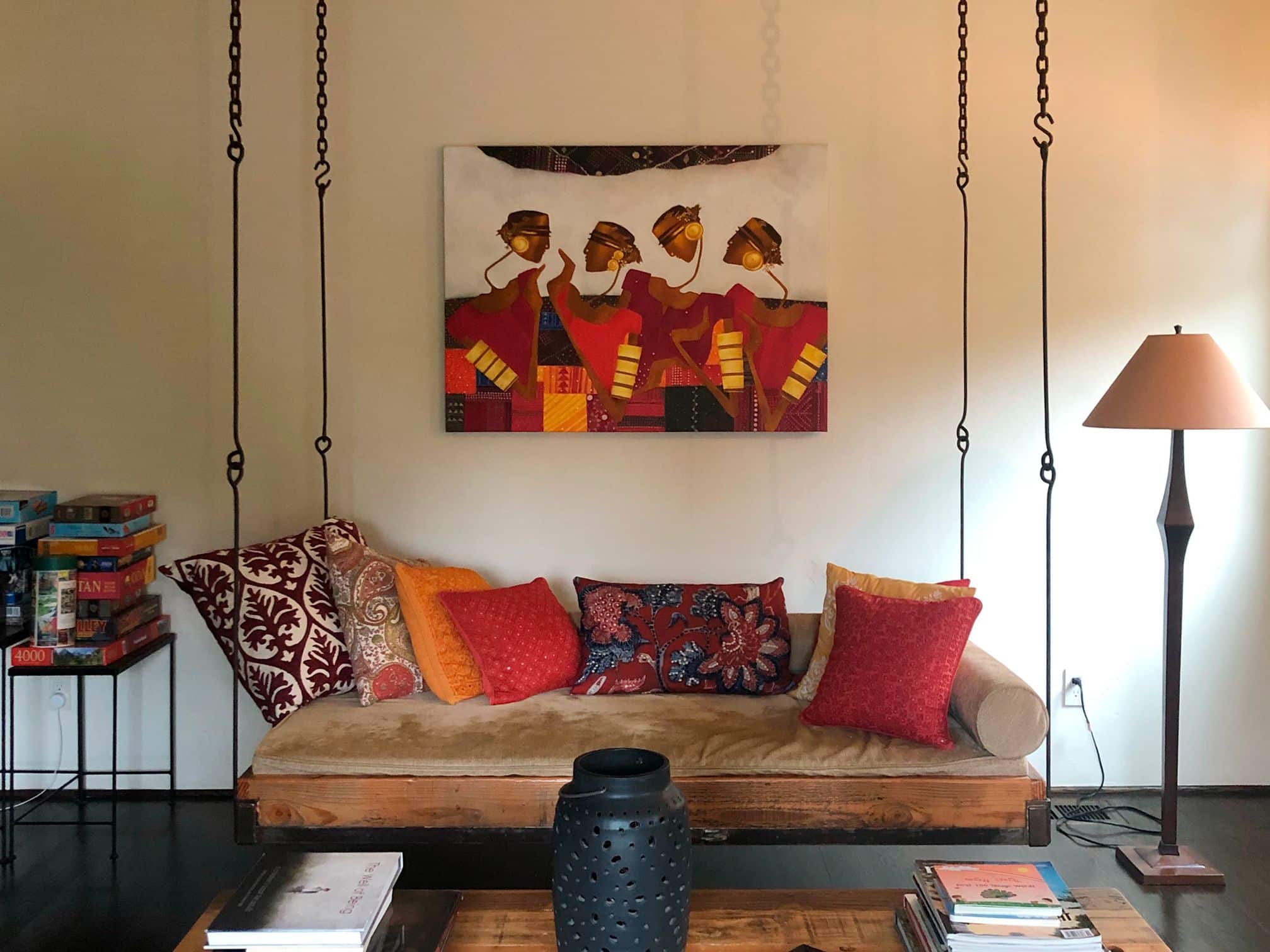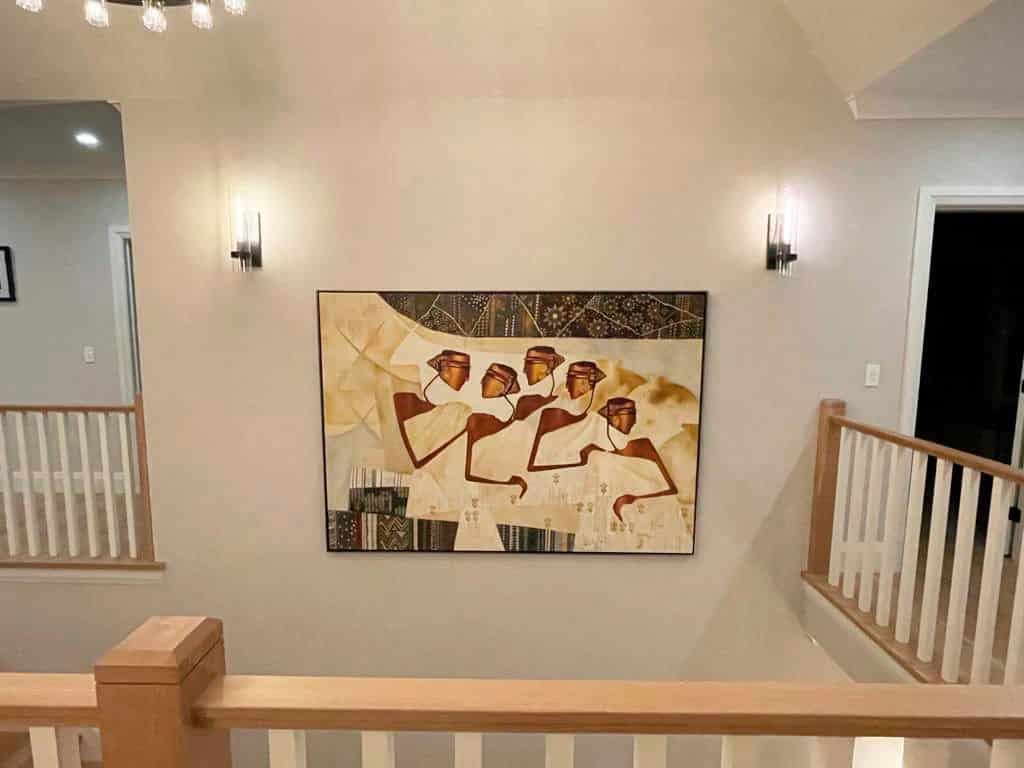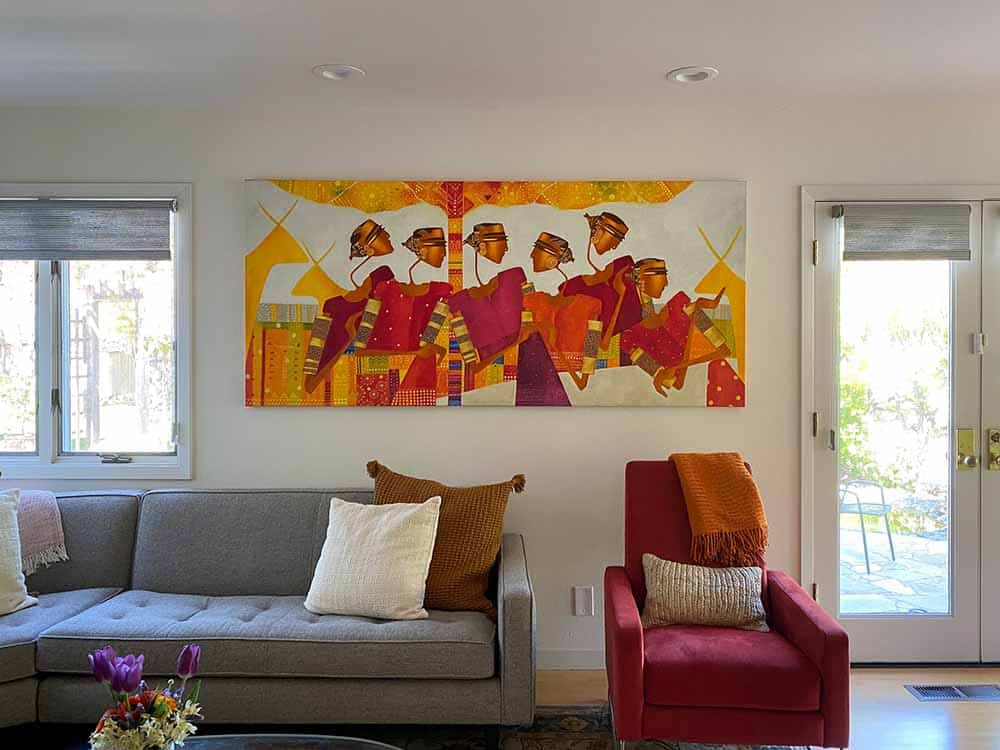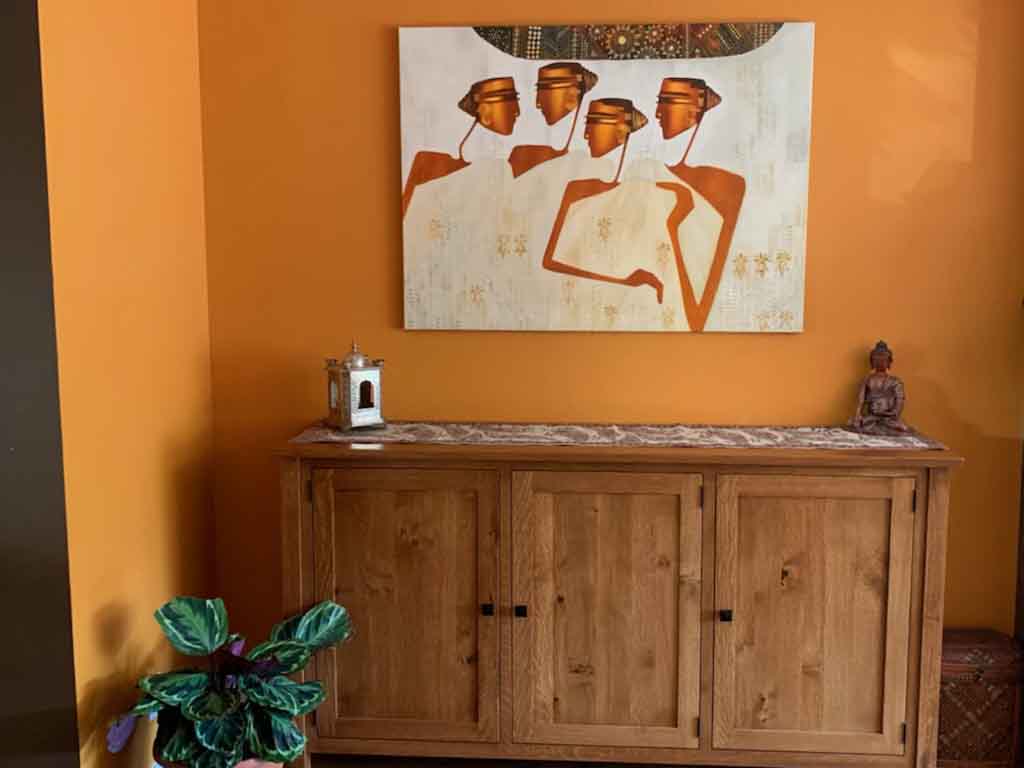 ---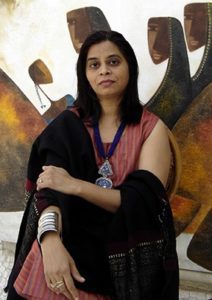 In art by Bharti Prajapati, a contemporary Indian artist, themes range from Krishna and Kabir to women and their special connection to nature. She is particularly inspired by the women of Kutch in Gujarat, whom she first encountered while attending college in Ahmedabad. In her original paintings, she depicts these women in vivid clothing and finely detailed gold jewelry, standing out brightly against the pale hues of the dry Kutch desert.
In her most recent series titled 'Earth Series,' artist Bharti Prajapati explores the uplifting rhythm of song and dance. Clusters of tribal women dance in sync under the vast sky, their energy flowing from one to the other. They move gracefully, with elegant hands and exaggerated long necks, expressing the collective joy of music and togetherness. In the artist's own words, "I am drawing on the elements of the universe, known as the Pancha Tattva in Hindu mythology. I have used these five elements of nature — space, air, fire, water and earth — as symbols in my paintings."
Bharti Prajapati trained as a textile designer at the National Institute of Design, Ahmedabad and Sophia Polytechnic, Mumbai. After working for ten years as a textile designer, she turned to her longtime passion for painting and became an artist. She has had numerous shows in India and abroad, including in New York, London and Singapore.
Bharti Prajapati welcomes requests for commissioned paintings. If you like a painting that has sold, or if you have a particular space in mind, a custom painting can be made to your taste and specifications regarding size, color palette and other details. You are welcome to buy her paintings online or view them at our gallery in Palo Alto (San Francisco Bay Area). All artworks are hand signed by the artist and include a certificate of authenticity.

---
---
Bharti explaining her recently commissioned painting.
FREQUENTLY ASKED QUESTIONS
---
Are the paintings signed?
Yes, all paintings are signed by the artist and come with a certificate of authenticity.
Is shipping available worldwide?
Yes, we offer both domestic and international shipping, and all fees are on actuals. We frequently ship throughout the US as well as to Europe, Africa and Asia.
How are the artworks shipped?
All works including paintings, prints and sculptures are professionally packed. Smaller paintings can be shipped flat, and larger paintings can be unstretched and rolled in a tube. Each shipment is covered by transit insurance.
Are exchanges accepted?
Yes, we do offer exchanges for remote clients who are based in the United States. Paintings must be returned in the same perfect condition in order to be eligible for exchange. Please refer to our FAQ page for more details on our exchange policy.
Are the paintings framed?
No, the paintings are not sold framed. While it is not necessary to frame a canvas, it can be a stylistic choice and help integrate the painting with the existing decor. You can read more advice about framing on our blog.
How should the artwork be taken care of?
As a resource for clients, we have written a guide on the best art care tips for canvases and works on paper.