ORIGINAL ART BY BHARTI PRAJAPATI: PAINTINGS AVAILABLE
ORIGINAL ART BY BHARTI PRAJAPATI: PAINTINGS SOLD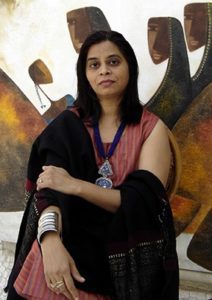 In art by Bharti Prajapati, a contemporary Indian artist, themes range from Krishna and Kabir to women and their special connection to nature. She is particularly inspired by the women of Kutch in Gujarat, whom she first encountered while attending college in Ahmedabad. In her original paintings, she depicts these women in vivid clothing and finely detailed gold jewelry, standing out brightly against the pale hues of the dry Kutch desert.
In her most recent series titled 'Earth Series,' artist Bharti Prajapati explores the uplifting rhythm of song and dance. Clusters of tribal women dance in sync under the vast sky, their energy flowing from one to the other. They move gracefully, with elegant hands and exaggerated long necks, expressing the collective joy of music and togetherness.
Bharti Prajapati trained as a textile designer at the National Institute of Design, Ahmedabad and Sophia Polytechnic, Mumbai. After working for ten years as a textile designer, she turned to her longtime passion for painting and became an artist. She has had numerous shows in India and abroad, including in New York, London and Singapore.
Bharti Prajapati welcomes requests for commissioned paintings. If you like a painting that has sold, or if you have a particular space in mind, a custom painting can be made to your taste and specifications regarding size, color palette and other details. You are welcome to buy her paintings online or view them at our gallery in Palo Alto (San Francisco Bay Area).