ORIGINAL ART BY LAXMA GOUD: PAINTINGS FOR SALE
---
Please hover or click on images to view artwork details.
ORIGINAL ART BY LAXMA GOUD: PAINTING SOLD
---
Please hover or click on images to view artwork details.
---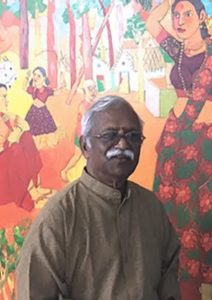 Contemporary Indian artist Laxma Goud is truly a master of media, having achieved success with oil, acrylic, watercolor, pen, ink, etching and sculpture in bronze and terracotta. Born in a village in Andhra Pradesh, he spent his childhood observing rural tradition and craft, such as leather puppetry and terracotta ornaments. These formative years are reflected in his principal artistic theme—the special earthiness and innocence of rural life in India.
Through his exquisitely colored paintings and drawings, art by Laxma Goud transports viewers to a rustic past where men in bright clothes and women with ornate jewelry revel among animals and lavish flora. He captures both the simplicity of these villagers and their unselfconscious eroticism. As he has aptly said, "There is eroticism in
nature itself."

Laxma Goud received a diploma in painting from the University of Hyderabad, and he later studied mural painting and printmaking at M.S. University, Baroda. An iconic Indian artist, he has received a Padmashri Award, and he has exhibited in India and internationally, including in New York, Washington D.C. and São Paulo.

Laxma Goud welcomes requests for commissioned paintings. If you like a painting that has sold, or if you have a particular space in mind, a custom painting can be made to your taste and specifications regarding size, color palette and other details. You are welcome to buy his original paintings online or view them at our gallery in Palo Alto (San Francisco Bay Area). All artworks are hand signed by the artist and include a certificate of authenticity.

---
FREQUENTLY ASKED QUESTIONS
---
Are the paintings signed?
Yes, all paintings are signed by the artist and come with a certificate of authenticity.
Is shipping available worldwide?
Yes, we offer both domestic and international shipping, and all fees are on actuals. We frequently ship throughout the US as well as to Europe, Africa and Asia.
How are the artworks shipped?
All works including paintings, prints and sculptures are professionally packed. Smaller paintings can be shipped flat, and larger paintings can be unstretched and rolled in a tube. Each shipment is covered by transit insurance.
Are exchanges accepted?
Yes, we do offer exchanges for remote clients who are based in the United States. Paintings must be returned in the same perfect condition in order to be eligible for exchange. Please refer to our FAQ page for more details on our exchange policy.
Are the paintings framed?
No, the paintings are not sold framed. While it is not necessary to frame a canvas, it can be a stylistic choice and help integrate the painting with the existing decor. You can read more advice about framing on our blog.
How should the artwork be taken care of?
As a resource for clients, we have written a guide on the best art care tips for canvases and works on paper.