ORIGINAL ART BY JAGANNATH PAUL: PAINTINGS FOR SALE
---
Please hover or click on images to view artwork details.
ORIGINAL ART BY JAGANNATH PAUL: PAINTINGS SOLD
---
Please hover or click on images to view artwork details.
ART INSTALLATIONS AT CLIENTS' HOMES
---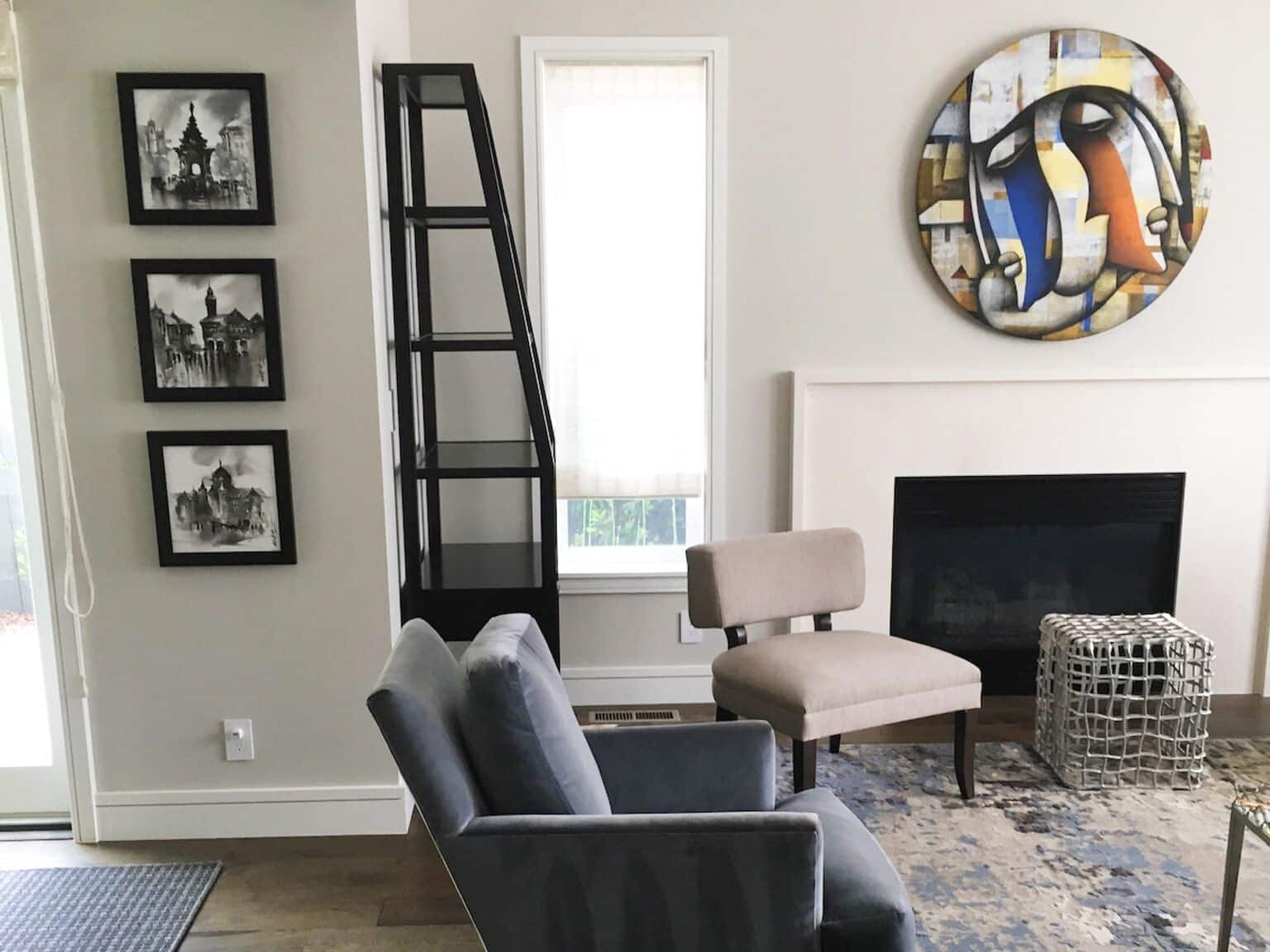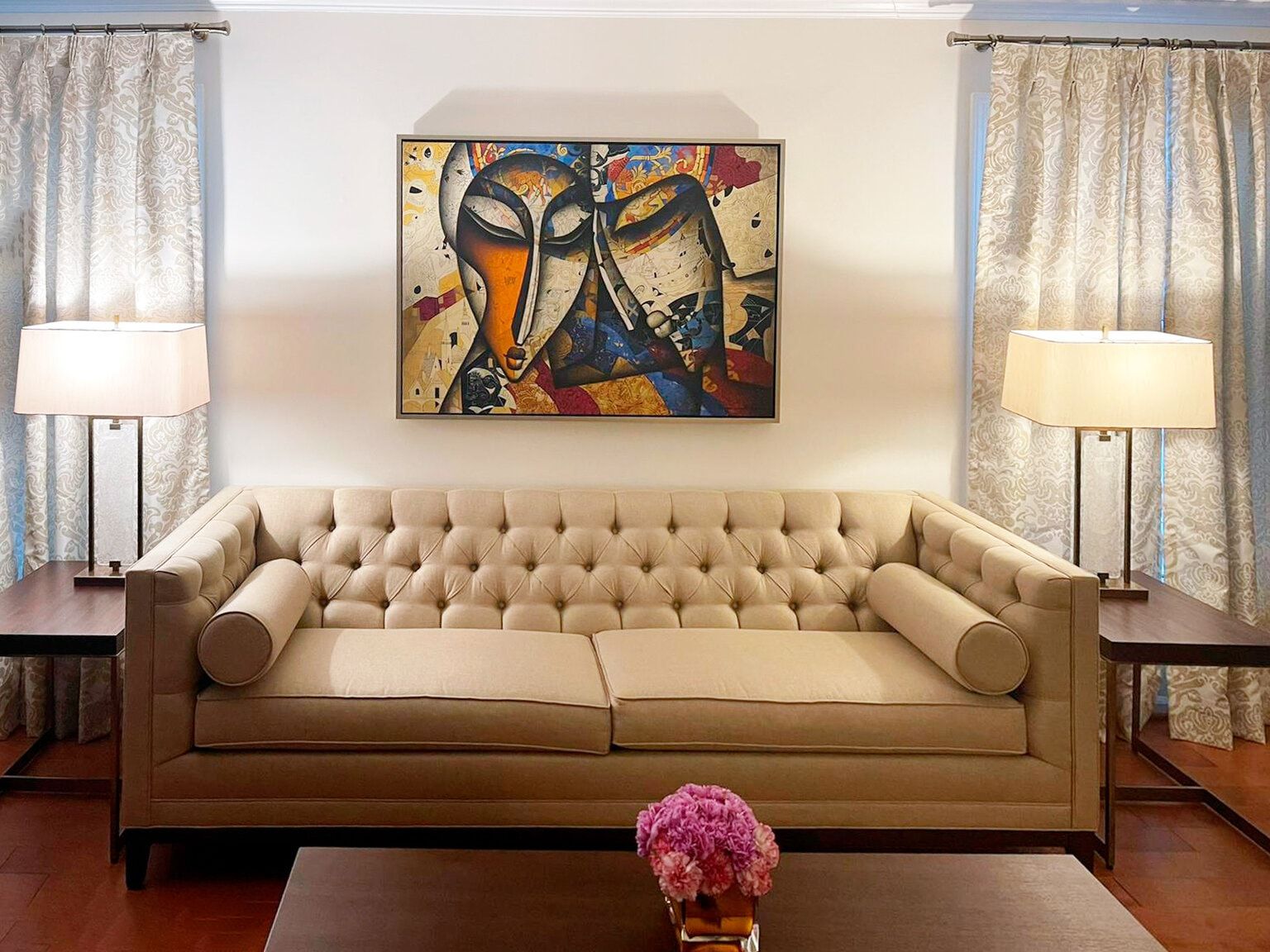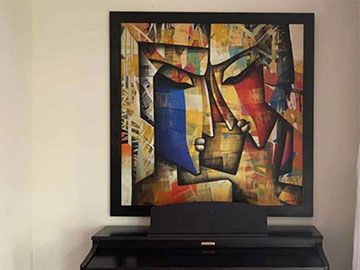 ---
A leading contemporary Indian artist, Jagannath Paul is fascinated by faces. The mysterious, wistful faces of both men and women dominate his abstract figurative works, often bowing towards each other or overlapping. In his distinctive technique of combining dark charcoal outlines with selective pops of acrylic color, his original mixed media paintings blend reality and theory.
"Growing up in a rural part of West Bengal, I was fascinated by people, their faces and the emotions that they displayed. I was an observer and continue to be, and that's the reason my paintings focus on faces. There are so many aspects in one person, and I use different colors to express that," artist Jagannath Paul says of his work. Often, two faces—each half in a different color—appear together as a symbol of the contradictory personalities we present to ourselves and to each other.
He graduated from the Government College of Art and Crafts, Kolkata. Art by Jagannath Paul has been shown across India and internationally in prestigious exhibitions, and he has won multiple awards for his art.
Jagannath Paul welcomes requests for commissioned paintings. If you like a painting that has sold, or if you have a particular space in mind, a custom painting can be made to your taste and specifications regarding size, color palette and other details. You are welcome to buy his paintings online or view them at our gallery in Palo Alto (San Francisco Bay Area). All artworks are hand signed by the artist and include a certificate of authenticity.
---
---
Jagannath at work on a recently commissioned painting.
FREQUENTLY ASKED QUESTIONS
---
Are the paintings signed?
Yes, all paintings are signed by the artist and come with a certificate of authenticity.
Is shipping available worldwide?

Yes, we offer both domestic and international shipping, and all fees are on actuals. We frequently ship throughout the US as well as to Europe, Africa and Asia.
How are the artworks shipped?
All works including paintings, prints and sculptures are professionally packed. Smaller paintings can be shipped flat, and larger paintings can be unstretched and rolled in a tube. Each shipment is covered by transit insurance.
Are exchanges accepted?
Yes, we do offer exchanges for remote clients who are based in the United States. Paintings must be returned in the same perfect condition in order to be eligible for exchange. Please refer to our FAQ page for more details on our exchange policy.
Are the paintings framed?
No, the paintings are not sold framed. While it is not necessary to frame a canvas, it can be a stylistic choice and help integrate the painting with the existing decor. You can read more advice about framing on our blog.
How should the artwork be taken care of?
As a resource for clients, we have written a guide on the best art care tips for canvases and works on paper.