FREQUENTLY ASKED QUESTIONS
---
---
Yes, we encourage Bay Area clients to see the paintings hung in their home before finalizing a decision. This is one of the key advantages of buying art locally, and it is important to us that our clients buy from a place of comfort and confidence.
Our installer can bring the painting(s) to your home for a trial installation. He charges a rate of $120 per hour, which covers the costs of safely transporting works from the gallery to the home and hanging the painting(s), round-trip travel time and overall time spent in the client's home.
Many local clients find this very useful as the entire family, including the children and sometimes grandparents too, get a chance to react to the painting and be part of the decision-making process. Additionally, they get to see firsthand how well it works with their space.
Yes, most clients find this very helpful. Visiting the client's home helps us to better understand their aesthetic sense and how the family uses the space — which walls or areas are high priority and which are relatively low priority.
This visit helps us know our clients better as people, because ultimately our home — and the art displayed inside — is an extension of who we are as individuals. Knowing the clients and their space helps us make recommendations of which other artists the client might like, both within our collection and beyond it.
We charge a fee of $250 for this visit, which includes approximately 1 to 1.5 hours of time spent at your home and round-trip travel time within a 5-mile radius. If your home is located more than 5 miles from the gallery, please request a quote from us for an adjusted rate.
Yes, we are happy to recommend professionals in the area who will assist you with these services, and you can work directly with them. We only recommend framers that we have worked with directly or framers that our clients strongly recommended.
Alternatively, we can facilitate the entire process for a standard flat fee starting at $200. This typically involves a visit to the framer, the selection of framing material including consideration of pricing and availability, the review of photos of the client's intended placement in the home and the final coordination between the client and framer for delivery.
If the framing needs are more complex and involve multiple visits to the framer, the facilitation fee may be higher to accommodate that. We are happy to provide a quote in advance upon request.
You can read more advice about framing on our blog.
---
3. BENEFITS OF WORKING WITH LAASYA ART
Many of our clients are first-time art buyers, and over the years, here are some of the reasons they have mentioned on why they chose to buy art from us:
We personalize our services to find the right artwork for you and your space.


We value the process of getting to know our clients and their specific taste. We make it a priority to see their home in person or via photos, so we can better advise them on which artworks will complement their space as well as recommend other artists.

Most clients have found this very helpful, especially in the initial stages of buying art when they are not yet sure what will work for them.

You can see the paintings in person and in your home before making a decision to buy.


Clients in the Bay Area have the opportunity to view the artworks in person and see them hung in their home prior to committing to a purchase, which is impossible to do with an online art purchase.

We provide start-to-finish service, making the art collecting process seamless and stress-free.


We strive to make the process of buying art as smooth as possible by providing clients assistance with delivery, installation and framing; please see Section 2 above for more details.

We offer the option to exchange a painting for US clients.


For remote clients in the US, we do offer exchanges if a painting does not meet expectations or does not work in their space; please see Section 2 for more details.
---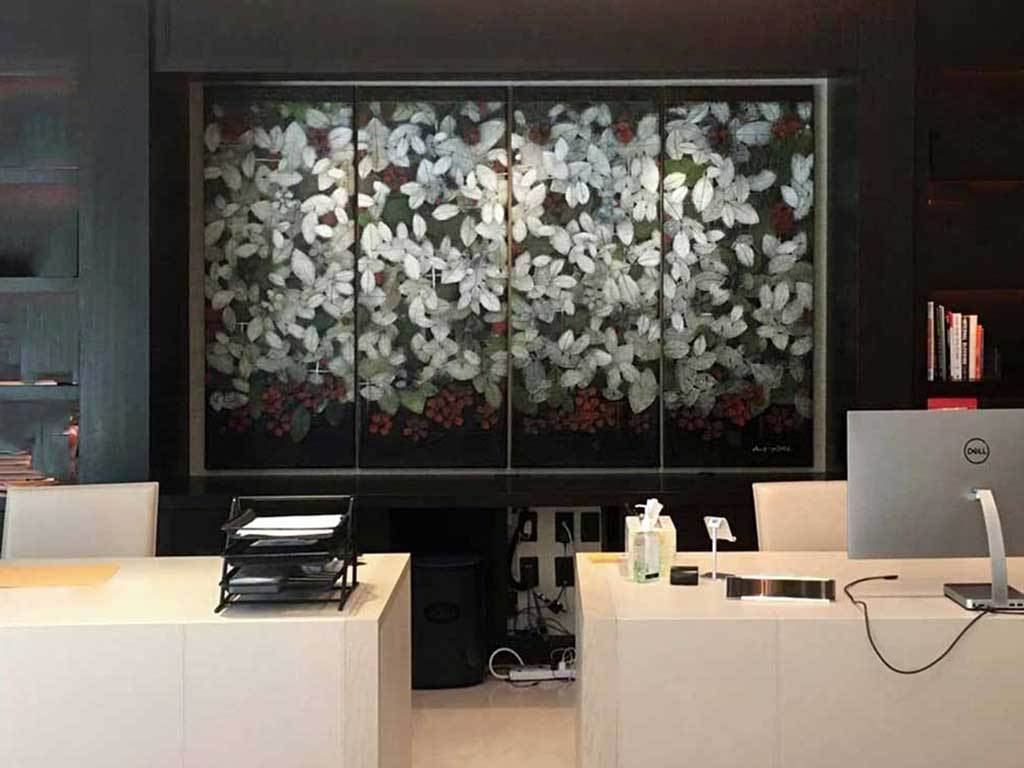 We have been coordinating commissions for many years and have evolved a process that works very well for both our clients and our artists. We will work with you and the artist to create an original painting that fits your overall vision, taste and physical space. We can also personalize your artwork, such as incorporating family names or other special motifs.
For example, the poem 'Where the mind is without fear, and the head is held high' by Rabindranath Tagore was a favorite of this client's family. When they commissioned a painting by artist Jagannath Paul, they requested to have the poem in the backdrop as a design element. They also had their children's names incorporated into the painting in a very discreet way. For their next commission, they have already expressed interest in incorporating the poem 'If' by Rudyard Kipling into the painting!
As a resource for clients, we have put together a commissions guide on our website with examples of previously commissioned paintings.
Additionally, we have written several blogs that provide an in-depth look at creating recent commissions, including paintings by Anuradha Thakur and Basuki Das Gupta.
Yes, we work with clients from all over the world on commission projects. Some of our recent commissions were completed with clients in Asia, as well as by remote US-based clients from southern California and Texas.
---
It is important to take steps to protect and preserve your art, including where to hang it safely and how to clean it occasionally. As a resource for clients, we have written a guide on the best art care tips for canvases and works on paper. We are also happy to connect you with a professional art conservator if you have a damaged painting that requires restoration.
---
6. ART BUYING TIPS FOR BEGINNERS
Many of our clients are first-time art buyers too, and over the years, we have learned a lot about buying original Indian art from the perspectives of both client and gallerist. While there is no 'right' way to collect art — the approach varies from person to person, we do recommend some best practices on how to educate yourself, hone your aesthetic preferences and trust your instincts. Visit our guide for more art buying tips for beginners.