ORIGINAL ART BY ANURADHA THAKUR: PAINTINGS AVAILABLE
---
ORIGINAL ART BY ANURADHA THAKUR: PAINTINGS SOLD
---
---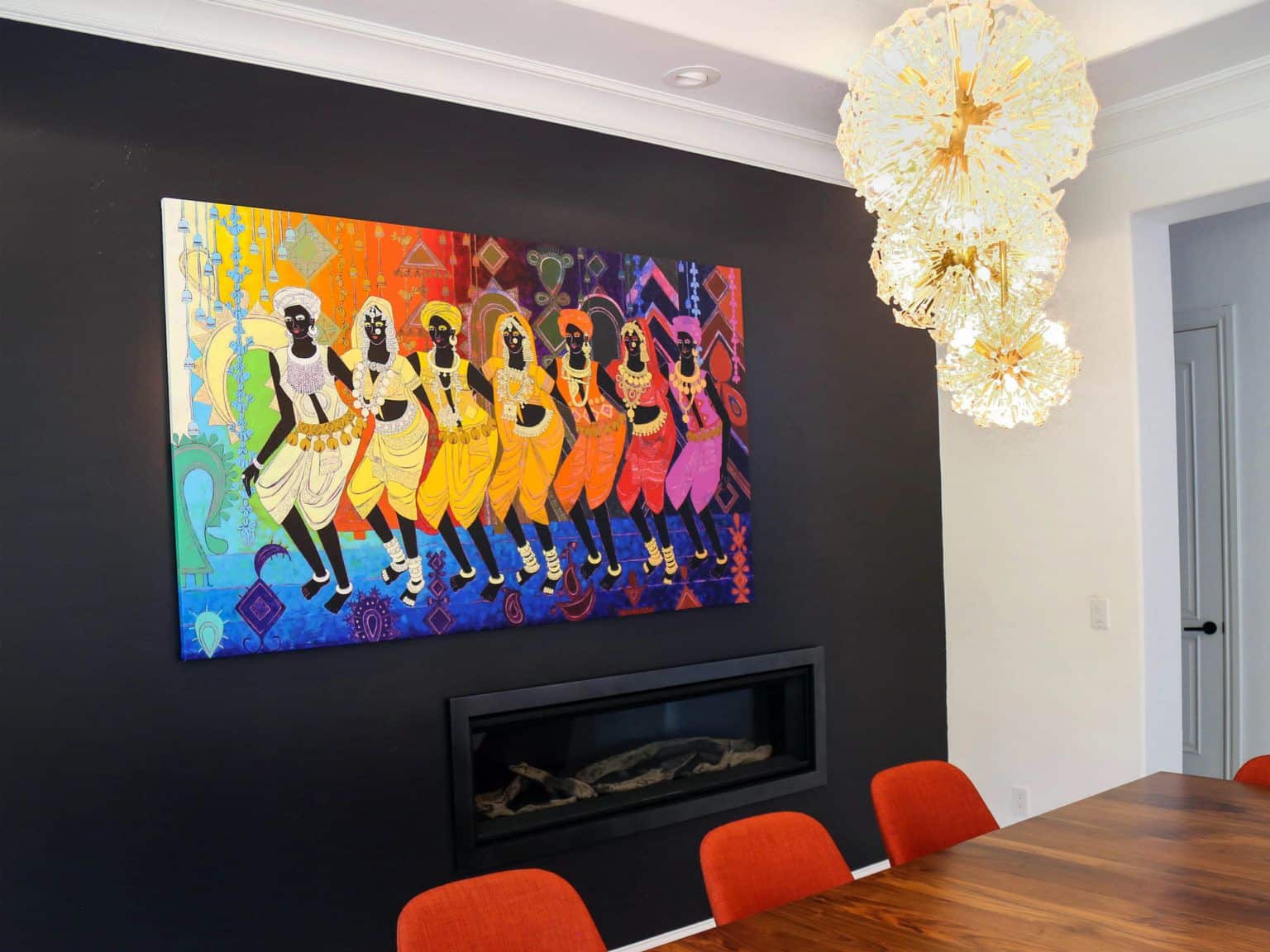 ---
Art by Anuradha Thakur, a contemporary Indian artist, celebrates the timeless beauty of tribal Indian rituals and traditions. From festivals and religious ceremonies to folk songs and dances, her original paintings illustrate the bold, vibrant tapestry of tribal life. She is known for portraying her subjects' faces and figures in black, a striking contrast to their ornate clothing and kaleidoscopic surroundings.
In a recent TEDx talk given at BITS Hyderabad, artist Anuradha Thakur discussed the distinctive use of the color black in her paintings. She said, "Tribal people are honest, content and peaceful, and I want these qualities to stand out in a quiet silent way. Black is a strong color to show this, but the black I use is a soft black—it is not a harsh or angry black."
Anuradha Thakur graduated with a Fine Arts degree from Abhinav Kala Mahavidyalaya, Pune. Before she became a full-time artist, she worked in the non-profit sector for 20 years. She has won multiple national awards and was recently chosen by the Ministry of Women and Child Development as one of the Top 100 Women Achievers in the category of Art and Culture in India. Notably, her painting 'Ethnic Serendipity' hangs in Prime Minister Narendra Modi's office.
Anuradha Thakur welcomes requests for commissioned paintings. If you like a painting that has sold, or if you have a particular space in mind, a custom painting can be made to your taste and specifications regarding size, color palette and other details. You are welcome to buy her paintings online or view them at our gallery in Palo Alto (San Francisco Bay Area). All artworks are hand signed by the artist and include a certificate of authenticity.
---
---

Anuradha painting outdoors in her garden.