sonia
VINITA KARIM, A NOMADIC ARTIST WHO PAINTS THE WORLD
---
Contemporary Indian artist Vinita Karim has led an incredibly rich and colorful life in over 15 cities across Europe, Asia and the Middle East. Drawing on her geographic and architectural memories of these far-flung places, her nomadic experiences culminate in her vibrant, brilliantly shimmering landscapes. The cities depicted in Vinita's paintings seem at once foreign and familiar, as they combine the distinctive features of real cities with imagined compositions.
When I first encountered Vinita Karim's original paintings, I was immediately struck by her vivid palette of gold, red and blue, as well as her subject matter that cuts across cultures. I knew right away that I wanted to show her work here at Laasya Art. So, I am absolutely delighted to present her as our Artist of the Month for February.
Below are excerpts from our recent interview, in which I asked her a few questions about her fascinating creative process — she sometimes incorporates embroidery onto the canvas — and her captivating Varanasi series, inspired by this ancient city in Uttar Pradesh. Every year, more than a million Hindu pilgrims visit Varanasi to bathe in the sacred waters of the Ganges River.
Sonia: The fanciful cityscape is the prevailing subject in your work. How do you connect to this recurring theme?
Vinita: It is based on the fact that I don't have a permanent home. I don't know where I will be 10 years from now. Instead, I am creating a home wherever I go. I have lived in so many different places and have developed a deep emotional connect with many of them, like the sky and expansiveness of the Sahara Desert, the minarets of Istanbul or the boats in the Padma River in Dhaka.
These places have influenced my work greatly, and I have imbibed each of them in my psyche. They have become part of my visual vocabulary. But, I am not striving to make a realistic portrayal of any one place. My paintings depict cities which I imagine and even dream of, mixed with hints of actual places like the temples in Varanasi or the color of the sea by Alexandria.
You grew up as the daughter of a diplomat, moving to different countries every few years. This experience has ultimately led to your gorgeous paintings, but was it difficult at the time?
It was hard. I was born in Burma, then I went to school in Kuwait, Khartoum and Islamabad, and I attended university in Stockholm and Manila. It is hard to uproot oneself and adjust to a new culture, new school, new friends every few years. But this also made me into a person who adapts very well and adjusts to new circumstances.
After I got married, I lived in Germany, Egypt, Philippines, Libya and Bangladesh. Everywhere I went, I exhibited my work and gained a lot of sources from these different cultures. And today I continue to travel extensively, always carrying my paints and brushes. I am ready to capture any new experiences wherever I go.
Your stunning Varanasi series focuses on the vibe of one city in India particularly — Varanasi in Uttar Pradesh. What draws you to this place?
The paintings 'Sacred Waters' and 'Divine Light' are part of my Varanasi series, which is based on my experience of visiting the holy city of Varanasi through an artist residency. I stayed at Brijrama Palace and painted the holy ghats. I have tried to capture the special spirit of Varanasi in my paintings from this series, especially the festive atmosphere during evening prayer. The devotion of the crowds, the rush of the boats, the sounds of the ceremony… all of this stayed etched in my mind.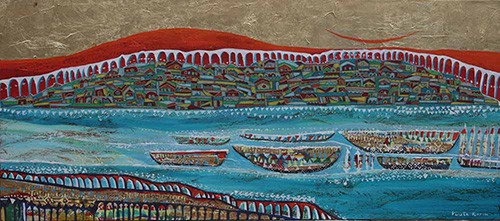 The fact that Varanasi is one of the oldest living cities in the world, dating back to the 11th century BC, is in itself amazing. The way that even today, the priests carry out centuries-old rituals on the ghats is fascinating. Both life and death are celebrated on the ghats. It is this dichotomy which makes this place so fascinating. Varanasi is an artist's dream.
Varanasi also appeals to me personally because of its history of weaving silks and muslins. Lately, I have been incorporating embroidery on muslin into my artwork. I love India's tradition of fine handcrafts and craftsmanship.
Tell me a little more about why you work with linen canvases.
Linen is the king of canvases, more durable and smoother to work on than other materials. All the old masters from Van Gogh to Rembrandt to Monet used linens.
I take pride in using the best of the best materials in my work, whether silken threads or gold and silver leaf. I am very influenced by Egyptian culture and tradition, so the notion of an object's longevity has become ingrained into my mind. Remember the embalming of the mummies!
And how does color play a role in your paintings?
I absolutely love color and consider myself a colorist at heart. To me, color is a celebration of life, of nature. A lot of my pieces have warm Middle Eastern undertones, influenced by my years in Kuwait, Egypt and Libya. The blues of the Mediterranean and the golds of the Sahara Desert are also recurring hues in my work.
Thank you very much, Vinita!
To truly appreciate artist Vinita Karim's paintings is to see them in person, as photographs simply don't do justice to each work's remarkable texture and depth. Her canvases frequently incorporate gold or silver leaf, portraying glints of sunshine on the water or giving the moon an iridescent quality. In her most recent works, she also embroiders silken threads onto the canvases before applying acrylic paint. Standing before her work, it feels like you could step inside and begin to explore the city's winding streets.
Please visit https://laasyaart.com/vinita-karim/ to browse our collection online and buy art by Vinita Karim. If you would like to make an appointment to see her work in person at our Indian art gallery in Palo Alto, please reach out at info@laasyaart.com or +1 650-770-9088.
— Sonia Nayyar Patwardhan