sonia
INTERVIEW WITH CONTEMPORARY MASTER SENAKA SENANAYAKE
---
Saturated scenes of rainforests, lotuses, heliconias, hummingbirds, butterflies and macaws — artist Senaka Senanayake is renowned for his ability to render the majesty and joy of nature on canvas. One of the most sought-after contemporary artists from Asia today, Senaka's journey began in Sri Lanka, where he was born and raised. He was identified as an artistic prodigy at a very young age, and by the time he turned 10, he had already exhibited in prestigious institutions both in Sri Lanka and abroad. He has since been the subject of more than 150 solo shows in over 18 countries, and his paintings can be found around the world in Parliament Buildings, in the official residence of the President of Sri Lanka, in the United Nations headquarters in New York and even in the collection of the White House in Washington, DC.
I recently sat down with Senaka over a video chat, and he kindly shared more about his career, creative process and sources of inspiration. From rocketing to fame as a child to studying at Yale in the turbulent atmosphere of the 60s and 70s, he has certainly led a life as rich and fascinating as his paintings.
How would you describe yourself in a few words?
I would say I'm sort of a happy-go-lucky guy. I take life easy as it comes. And I've not changed from the time I was a kid!
You got into art at a very early age. What was your environment like, at home and at school, such that it encouraged you to pursue art?
In my school, we had a very progressive teacher. After any lesson, say in geography or history, she would take these big pieces of brown paper, stick them up on the walls and say, "You studied Africa today, why don't you make some images of African birds?" So all together we would paint murals on the walls. It was unusual for a kid to get a huge surface to paint on — usually children are given an A4 size piece of paper, where you don't have freedom of movement. The natural tendency for a child to have a big sweep of hand, but a small piece of paper stifles you.
I came back home and told my parents about this, and they thought it was a great idea — it would keep me out of mischief. They got me brown wrapping paper and put it up in my bedroom. My early motifs were mainly animals, birds and life in Sri Lanka, reflecting the environment I lived in.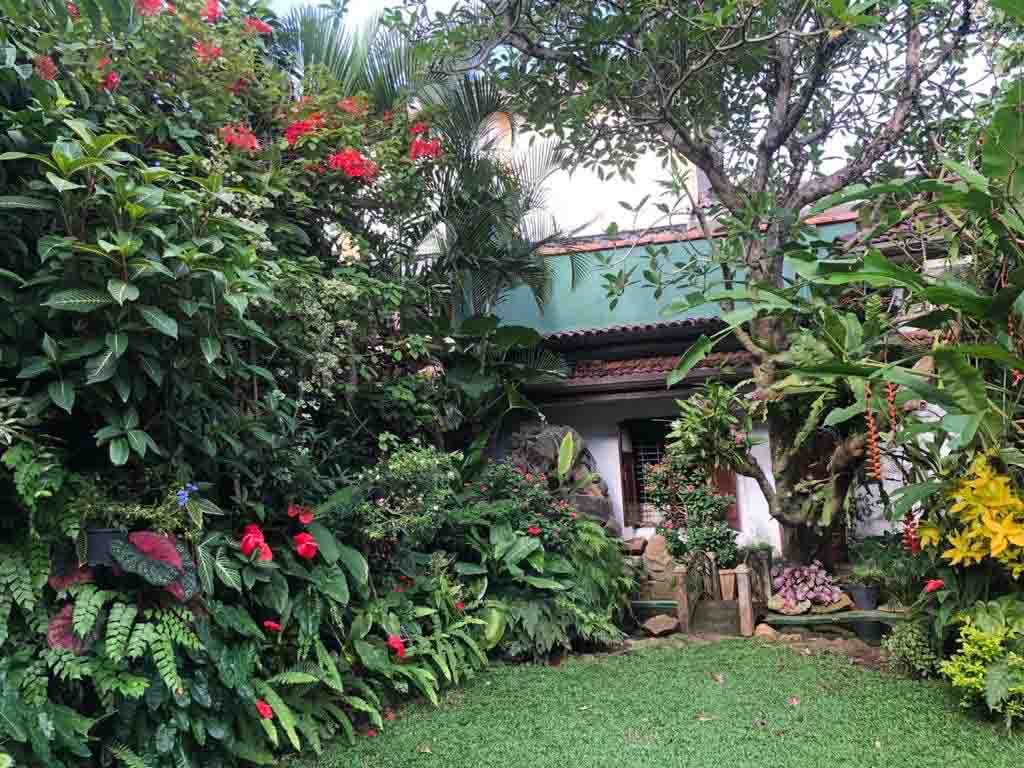 So did you always want to be an artist?
My parents were not that keen that I pursue art as a profession. They would say, "Okay, art is fine, but you will be a doctor, a lawyer, an engineer or an accountant." At that time, I was also really interested in sports. In fact, my ambition was not to be an artist but to be a serious cricketer!
But by age 8, you had an exhibition at the National Art Gallery in Colombo, and by age 10, you had your first international exhibition. How did it feel to experience so much so young?

Truthfully, I never took it that seriously. I never thought about being a professional artist, since my parents did not want me to do so. But what changed my life completely was the exposure I had to the United States. At one of my later exhibitions when I was about 16 or 17 years old, there was a gentleman from the Smithsonian Institute who came and he saw my work. He asked what I wanted to be. I said I was going to be a plastic surgeon. Then he looked me in the eye and said, "When god gives people a talent, it's not a talent in everything. You would be a very good artist but I doubt you would be a good doctor!" He suggested I attend an American university, as the educational system doesn't force you to specialize too early in life.
Ultimately I studied art and architecture at Yale, with a minor in political science. After that, I applied to Cambridge to study architecture further. But I didn't really want to do it, I wanted to continue painting. I took one year off and went back to Sri Lanka, and then I told my parents that I wanted to pursue art professionally. Having had exposure to American life, I was far more rebellious!
And now here we are! Tell me about the various themes you have been drawn to in your six decade career.
After my early years, depicting the life and people and festivals of Sri Lanka, I went through a period where I became very interested in Buddhism. I did a whole series inspired by Buddha's life. Then after that, when I studied abroad, my thinking changed completely. I experimented quite a bit. Eventually I started getting involved in natural themes, and I became very influenced by the environmental crisis in the world. In a beautiful country like Sri Lanka, we have lost 70% of our rainforests. This led me to start looking at the international — I realized if you cut a tree in Indonesia or burn a forest in Brazil, it affects the whole world. And the world belongs to everybody, so I started thinking that I should reflect these ideas in my work.
Then came a very important phase in my life, when my wife introduced me to guru Sathya Sai Baba. He once said that happiness is always sandwiched between two sadnesses — we live for this moment of happiness. This struck me. I thought, if I depict the negative parts of environmental destruction, who is going to be interested? But if I show the positive, I will get my message across.
All the time when I have exhibitions, children ask me, "Is this real? Where can I see this?" They might even ask their parents to take them and show it to them. Then they get very angry to learn that most of it is gone… they are the ones who can change the world. Not us.
Who are some of the artists that you admire?
I really admire Picasso. He was the inventor of lots of art forms, and he was a very good figurative painter as well. I also love Monet for the way he paints flowers and gardens. My wife and I actually went to Giverny, where he kept a fabulous garden. Since then I've done three paintings inspired by him.
Looking towards our part of the world, what M.F. Husain accomplished is incredible as well. If not for him, there wouldn't be any content for Indian art. He is the one who really got it going — his market, his strategy, the way he handled different subjects. It always fascinates that he does figures without a face! I am always wondering, what would the face look like if he did do it?
In your personal and professional life, who has been the biggest influence?
My mother promoted me and supported me in the early years. And in the later part of my life, it has been my wife — she has been right by my side. So, my family has been an incredible support system. And Sathya Sai Baba's philosophy too. Those have been the main forces.
What is your process to create a painting, starting from a blank canvas?
When I get to the canvas, I know what I'm going to do. It evolves as I paint, but I have the idea of the subject matter. First, I do a charcoal sketch on the canvas. When I start putting the color down, the sketch changes, because I don't know what the colors will look like together until then. So my painting is always changing all the time.
I prefer working in oil over acrylic or watercolor. I just love oil painting. There is something about it — the richness, which you just can't get in other mediums.
Among the paintings that you're doing right now, which one is closest to your heart?
I can't say that the butterflies or heliconias or birds are closest to me. They are all interconnected. And now I am about to paint leopards in the rainforest. It's a little different for me — it should be interesting!
That sounds wonderful. Thank you very much, Senaka!
If these stunning, brilliantly colored scenes of nature have struck you as much as they have moved me, please visit https://laasyaart.com/senaka-senanayake/ to browse our collection of paintings by artist Senaka Senanayake online. If you would like to make an appointment to see these works in person at our South Asian art gallery in Palo Alto, please reach out at info@laasyaart.com or +1 650-770-9088.
— Sonia Nayyar Patwardhan