Shubham Jain
CONTEMPORARY INDIAN ARTIST S. SIVABALAN TALKS ABOUT HIS ARTISTIC JOURNEY
---
Indian artist ​​S. Sivabalan has carved out a niche for himself in the world of contemporary art, where time seems to slow down and one can appreciate the pace and beauty of rural life. Having shown his work in almost 20 countries worldwide and in countless Indian cities, Sivabalan's idyllic rural landscapes and vibrant paintings of village men and women reveal an artist whose feet, heart and mind are firmly rooted in the soil of his homeland.
Recently, we invited leading Indian art historian and writer Sandhya Bordewekar to chat with Sivabalan about his life, his art and the little town of Kumbakonam where he was born.
Your hometown of Kumbakonam is a historically and culturally important temple town, with the rivers Cauvery and Arasalar flowing past it. So, tell us about your childhood here — what triggered your interest in art?
As a child, my town Kumbakonam introduced me to the visuality of color, lights and patterns, the sounds of drums, folk music and chanting of shlokas, and the festivity associated with the celebration of numerous festivals at village temples. This continues to be one of my most important inspirations to paint even today.
I made my first drawing when I was in Grade 5 at school, and it featured a richly decorated elephant in one of our festivals here. I was also fascinated by my mother's kolams (auspicious geometric patterns traced by rice flour on the threshold of homes in southern India) that she made every day, and especially the elaborate ones she made for the Pongal festival. I would fill in colors in the Pongal kolam that included images of banana leaves, sugarcane stalks, earthen pots, cows and small children. I drew these so well that neighbors would request me to make their Pongal kolams!
Who offered you guidance in the early years?
There wasn't much guidance in school. But my mother was a great source of inspiration. She would take my paintings and show them to Prof. Manoharan, who taught at the Kumbakonam College of Fine Arts and who lived in the same lane as our home. He convinced my mother that after I finished school, she should admit me to his college. And that's what we did.
Most of the paintings I did when in the first and second years at college were landscapes in watercolor, depicting the beautiful forests and fields through which I often wandered. In my last year of college, we had Prof. R. B. Bhaskaran, an artist with international exposure, as our Principal. When he saw my paintings, he convinced me that I should take up art as a career and concentrate on it. His encouragement was invaluable.
Can you tell us a bit about your artistic journey and the challenges you have faced? What were the key turning points in your career?
There were no challenges on the family front. But a number of my teachers at the art college did try to dissuade me from pursuing a career in art. I do not think it was because of any ulterior reason. Just that the Kumbakonam College was more than 150 years old and hardly 10 or 12 students graduating from it had been able to make a living from art. In 1998, the year I graduated, I participated in my first group show at the Chitrakala Parishath Gallery in Bangalore and sold one work. In 2000, I participated in another group show at the Vinyasa Gallery in Chennai.
The turning point was perhaps my moving from making only painting landscapes to figurative images. At the end of 2000, another Gallery in Chennai hosted my solo show for a month. Since then, there has been no looking back. I have exhibited my paintings in 17 countries and traveled to all of them!

What does practicing art mean to you? If not an artist, what would you have become?
I feel terrible if I am not able to paint even for a single day! I travel all over India, especially during festival times. My camera and a bunch of sketching papers and pencils are always with me. What I capture on these become the basis of my new paintings. Maybe if I would have failed as an artist, I would have become a policeman!
You have decided to live in a rural town, removed from most art galleries. Is there any particular reason for not moving to a larger city?

After completing college, I did move for a while to Chennai. Then after my marriage I also moved to Delhi as I wanted to capture the experience of the festivals in northern India, especially Rajasthan. But I get stressed by the hustle and bustle of large cities, the continuous noise and cramped living spaces. I prefer the peace, calm and silence of my small town where I can work at leisure in my large studio surrounded by trees and plants.

The subjects of your artworks are generally rural people going about their everyday work or at festivals and market places, and so on. Amongst these, which is your favorite subject?
My favorite subject is the elephant. These decorated elephants, with their beautifully embroidered, colorful back cloths and various ornaments are the pride of our temples in south India. And they play a major role in the festival celebrations. I also love the decorated cows!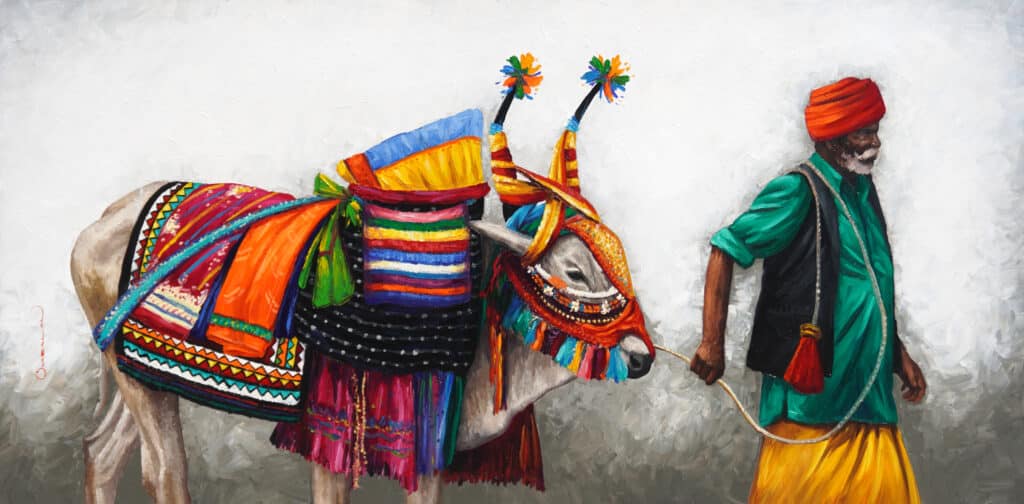 You make oil paintings, watercolor on paper, mixed media works and drawings. Which medium do you most enjoy working in?
I love watercolors the most! One gets immediate results…
Are you exploring any new subjects or techniques?
It is not a new subject, but I am working with new mediums — compositions in crayon and oil pastels. I think the results will be good!
Looking back as a successful artist, what would be your advice to young artists graduating from school today?
Practice makes everything perfect! Always keep a bundle of paper and a bunch of pencils with you so you can sketch at every opportunity. You can thus capture a look or a gesture immediately and not have to trust your memory. Actually, attached to my studio is a separate classroom where I teach — for free — any art college student who wants to learn.
Thank you very much, Sivabalan!
To browse our curated collection of contemporary paintings by Indian artist S. Sivabalan, visit https://laasyaart.com/s-sivabalan/. If you would like to make an appointment to see these works in person at our Indian art gallery in Palo Alto, please reach out at info@laasyaart.com or +1 650-770-9088.
— Sonia Patwardhan