sonia
SERIGRAPHS: INVESTING IN FINE ART PRINTS BY THE MASTERS
---
Although the art of serigraphy has been around for 100 years (and other methods of printmaking far longer than that), fine art prints have become one of the most rapidly growing sectors of the art market in the past decade. Even recently, here at Laasya Art we have noticed tremendous interest among clients to own a signed print by the Modernist Masters like M.F. Husain and S.H. Raza, whose original paintings are otherwise unaffordable for many.
Yet while the demand for serigraphs has grown, collectors invariably have a lot of questions about the process, their value and how they differ from an original artwork. We thought it fitting to devote a blog on this topic.
What is a serigraph?
A serigraph is a high quality, limited edition fine art print, made on high quality absorbent paper in collaboration between the artist and a professional printer. (There are dozens of types of prints, but here at Laasya Art we primarily work with serigraphs.)
How do you print a serigraph?
Producing serigraphs is a meticulous, completely manual process. Using the original artwork as the master guide, a different stencil is created for each color that will compose the image. Then, the ink is pushed through the corresponding stencil onto the paper and then laid flat on a drying rack. This step is repeated multiple times, using a separate stencil for each color. A single serigraphic print can have as many as 25 colors or more.
Recently, we visited a printmaking studio and took this step-by-step video to illustrate this process.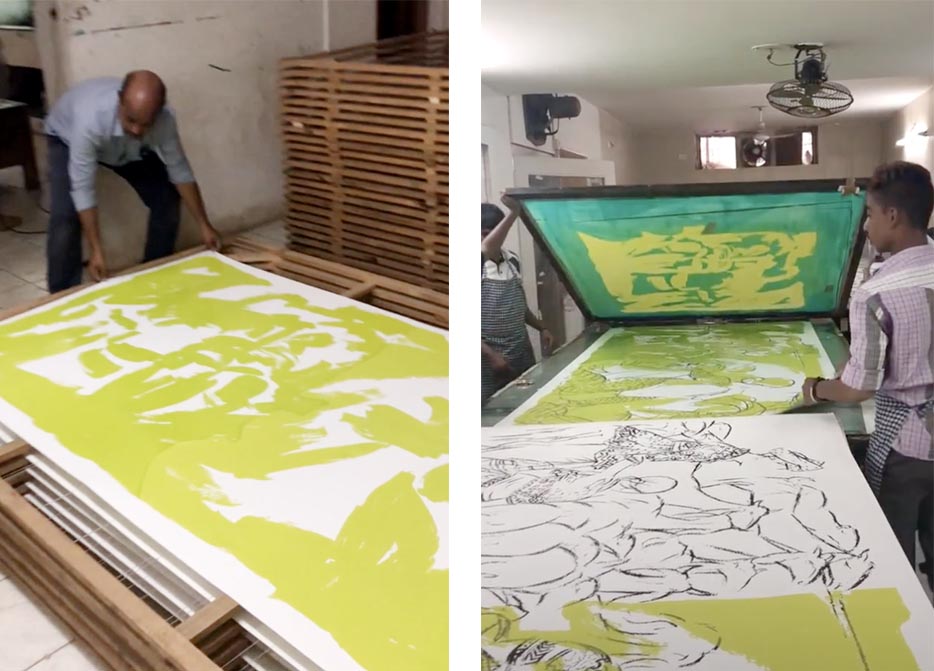 Why do artists work with serigraphs?
Often, serigraphs are produced by senior artists whose paintings reach the top end of the market, like M.F. Husain, S.H. Raza and Thota Vaikuntam. These artists' original works may be out of reach for most collectors, but with serigraphs, one can get very high quality prints of these artists with their original signatures at affordable price points.
Sometimes, serigraphs are also made by living artists who have achieved a certain level of success, popularity and recognition like Senaka Senanayake, Seema Kohli, Atul Dodiya, Manu and Madhvi Parekh and Paresh Maity.
What is an example of a serigraph?
The term "serigraph" might feel new, but you have likely encountered serigraphs before, as many famous artists have worked with this medium — Andy Warhol, for example, used serigraphs to create his iconic Marilyn Monroe and Campbell Soup series.
What makes a print more valuable?
The value of a serigraph is determined by the artist's notability, the edition size and the presence of a signature. A serigraph's most important feature is the artist's signature, which confirms its authenticity as a genuine artwork. Without a signature, a serigraph may as well be a poster.
Another contributing feature is a print's finite availability. Limited edition sizes range from under 100 up to 1200, but on average, serigraphs are printed in runs of 100 to 125. Each individual print is numbered in the form of a fraction, such as "1/100," meaning that the print is number 1 within an edition of 100. Typically, prints of fewer editions are higher in value.
Are fine art prints a good investment?
Yes! Depending on the artist's historical importance and the specific serigraph, the value of a serigraph can keep increasing with time.
What is an artist proof, and how does it relate to the printed edition?
Artist proofs — sometimes referred to as APs — are the initial impressions used to test the print and its colors. Once the artist is satisfied with an AP and approves it, then the printer proceeds with the full edition. So, APs are not counted in the total number of prints in the edition, but their numbers generally do not exceed 20% of the edition size. Some collectors actually prefer APs, due to their rarity.
After the limited edition is sold out, can more images be printed?
No, additional prints cannot be made, and no reputable printmaking studio will do so. This also means that, once an artist passes away, no more prints can be approved or signed — there is a very limited number of serigraphs by Husain and Raza that will ever be available, just like their paintings.
How can I identify fake serigraphs?
It is difficult for the untrained eye to detect a fake serigraph, especially without comparing it to the colors and quality of the "original" serigraph. However, collectors can protect themselves by always buying artwork from a reputable source and requesting the proper paperwork. Here at Laasya Art, for instance, each serigraph is signed by the artist and accompanied by a certificate of authenticity.
Do I need to frame serigraphs?
Yes, absolutely! Works on paper must always be framed to properly protect them from warping and discoloration. Read our framing guide to better understand your options, from ornate metal to minimal wood.

I hope this creates a better understanding of serigraphs! We welcome you to browse our collection of serigraphs by M.F. Husain, S.H. Raza and Thota Vaikuntam. If you would like to inquire on available works or have any additional questions, please get in touch at +1 650-770-9088 or info@laasyaart.com.
— Sonia Nayyar Patwardhan